Top Medical Experts Attend Seminar on Reducing ACL Injury in Sport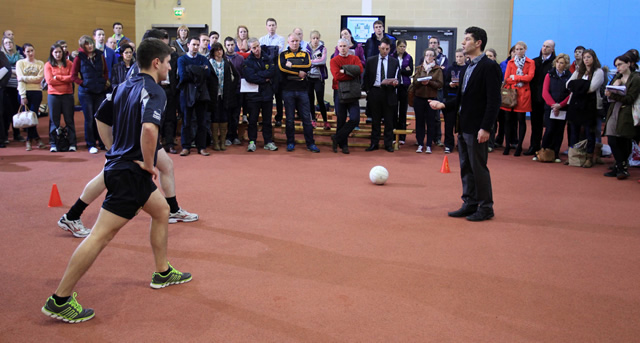 The local sports medicine community turned out in force for a SINI hosted seminar on the reduction and management of Anterior Cruciate Ligament (ACL) injury on Wednesday 26th March.
The seminar included contributions from leading experts in the treatment of ACL including Mr Chris Connolly, Orthopaedic Knee Consultant at the Belfast Knee Clinic and Musgrave Park Hospital, Louis O'Connor, Superintendent Physiotherapist, Trauma and Orthopaedics at Royal Victoria Hospital and Dr Michael Webb, Sports Physician, SINI and Medical Director, Ulster Rugby.
The event was attended by over 100 physiotherapists, doctors and other medical professionals as well as coaches and players from a range of sports.
Attendees also saw a practical demonstration of the Activate GAA Warm-Up, an innovative warm-up programme designed by SINI and Ulster GAA to enhance player performance and reduce injury in Gaelic Games.
The Activate GAA Warm-up has been adapted from FIFA's successful 11+ programme to meet the specific needs of GAA sport and to reduce the incidence of common lower limb injuries among players, particularly Anterior Cruciate Ligament (ACL).  It has been developed by SINI in conjunction with Ulster GAA coaches and an expert group of sports medicine professionals. It is based on solid medical research and, if performed regularly with proper technique, evidence shows it can lead to a reduction in leg injuries by up to 50%.
Activate's online coaching videos have been watched over 20,000 times since the website's launch in February and 100s of club coaches have attended nine dedicated Ulster GAA coaching workshops across the province. The Activate Warm-Up will continue to be rolled out to clubs and counties across Ulster throughout 2014 and beyond.
Head of Sports Medicine at SINI, Prof. Phil Glasgow comments:
"An ACL injury can be devastating as it often results in a long disability time and can have ongoing repercussions later in life.  So, we see this as a very important intervention and we're confident that Activate will not only help reduce the incidence of ACL injury but actually aid performance because it's built around the key skills and movement patterns needed when playing Gaelic sport. We've trialled it with many coaches and they're reporting really positive results."
Roger Keenan, Coaching Development Manager at Ulster GAA comments:
"Injury prevention is a massive priority for Ulster GAA and we see Activate as a vital part of our player welfare strategy.  It's a fantastic initiative that has come about as a result of a big demand within GAA circles for a warm-up that is consistent and uniform.   The warm up will actually lead to better functional movement and a reduction in injury in our players and it's a great example of how Ulster GAA's collaboration with SINI continues to deliver real benefits for our coaches and players."
Donegal captain Michael Murphy believes that the Activate Warm-Up will prove to be a vital intervention:
"The warm-up teaches players better functional movement and sprint mechanics and encourages good technique; it's fantastic that Ulster GAA and SINI have had the vision to create it.  I'd urge every club and county across Ulster to get in on this now and educate their players."
Photo Caption: SINI sports physiotherapist Chris McNicholl demonstrates the Activate GAA Warm-Up to the audience at SINI's seminar on the reduction and management of ACL injury in sport.
For more information, please contact:
Anne Smyth, Communications Officer, SINI, annesmyth@sini.co.uk
Notes to Editor
The Activate GAA warm-up website is: www.activategaa.sini.co.uk.
The Activate GAA Warm-Up project is a collaboration between the Sports Institute Northern Ireland (SINI) (www.sini.co.uk) and Ulster GAA (www.ulster.gaa.ie).
Activate is a GAA specific warm-up for training and matches that improves movement skills and reduces injury.   It is a dynamic warm up which includes the ball.
Activate is designed for use by coaches of players from 14 years to senior grade.  The warm-up is appropriate for use with GAA Football, Hurling and Camogie squads.
The Activate GAA Warm-up was developed by SINI, Ulster GAA coaches and an expert group of Sports Medicine Professionals (including County team Physiotherapists, Physicians and Orthopaedic Knee Consultants) to reduce what appears to be an increasing number of anterior cruciate ligament (ACL) injuries in our playing population.
Current injury surveillance data suggest that one male per squad will tear their cruciate every other season, with females at even greater risk.  An ACL injury can be devastating as this type of injury is accompanied by long disability time and high cost as compared with other common athletic injuries.
Strong evidence demonstrates that by coaching movement and running skills, increasing leg and trunk strength and by optimising landing, cutting and deceleration mechanics we can significantly reduce injuries to the groin, hamstring, knee and ankle. The most compliant coaches and squads i.e. those who perform the exercises regularly with good technique have the least injuries and have more players available for matches.