Ulster GAA Targeting Unemployment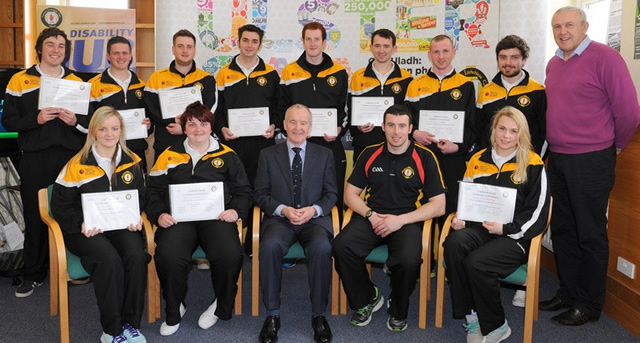 Phase 2 of Ulster GAA's Youth Employment Scheme has drawn to a close with a graduation event at the Council's Armagh offices.
Objective – Deliver a training and work experience opportunity, offering a range of coaching/ governance qualifications and coaching opportunities.
Recruitment – Via a partnership with Jobs & Benefits office we recruited long term unemployed via the 'Youth Employment Scheme' targeted at 18-24 year olds. This was open to applicants from across the province.
Qualifications Obtained per participant–
1) GAA Rounders Training Course in Coaching, Refereeing & Scorekeeping
2) Foundation Award Gaelic Football
3) Foundation Award Hurling
4) Foundation Award Camogie
5) Sports First Aid – HSENI Approved
6) GAA Basic Referee Course
7) Ulster GAA FOR ALL Disability Inclusion Workshop
8) Foundation Award Ladies Gaelic Football
9) Ulster GAA Gaelic Start & Fundamentals Workshop
10) GAA Safeguarding Children in Sport
11) Foundation Handball
* Phase 2 & 3 combined – 30 participants – 342 qualifications achieved.
Placements –
All coaches had to coach a minimum of 25 hours per week. All coaches were placed in schools within their own local area. All schools had previously received the DCAL equipment packs.
Activity – over the 6 weeks placement 384 coaching sessions were delivered and the following participant opportunities created: MALE 6106, FEMALE 4672
Phase 3 –
Target unemployed / volunteers and provide opportunities to gain appropriate coaching / first aid / disability awareness qualifications to help with their application for summer camp coaches and coordinators.
Photos from the graduation event can be viewed on the Ulster GAA Facebook Page.