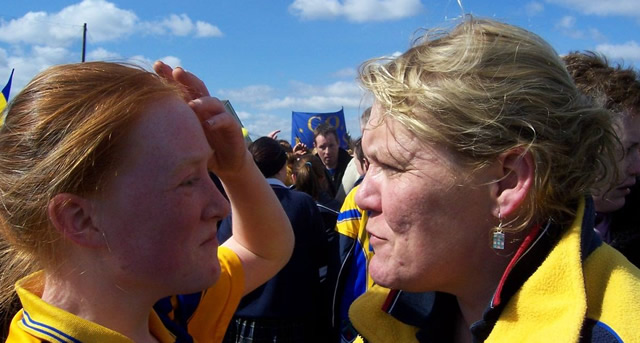 Ulster Ladies Gaelic feel that it is important to pay tribute to one of the great characters of Ladies Gaelic Football in Ulster who is sadly no longer with us – Pauline Devlin.
Pauline was a PE, maths and computer teacher in St. Louis Covent, Monaghan. A vibrant, mischievous and larger than life character, Pauline was involved with every single ladies football team that ever kicked a ball for 'The Louis'. The school have no football pitch but despite this Pauline masterminded several County, Ulster titles and lead 4 teams to All Ireland glory in both Senior and Junior A competitions. Many of the girls whom she managed throughout the years are now prominent figures in Monaghan's Senior Inter-County team.
Devo, as she was affectionately known by the Louis girls was the epitome of positivity and like another great leader Barrack Obama; 'Yes We Can' was her mantra, in the classroom, on the pitch and in life. Of course she did have a secret weapon that kept her 'high', the endless cans of Diet Coke she drank in copious amounts. There will definitely be a slump in Coca Cola shares, unless it's the drink of choice of all heavenly bodies.
Pauline lived for her job – because it wasn't just a job – it was her life. Where others would be looking forward to the holidays, she found being away from school unbearable. She would breeze into the staffroom and all you would hear was a blast of some song from the 1980's, always upbeat and usually out of tune and the lyrics somewhat garbled. That was Pauline, uninhibited, spontaneous and a breath of fresh air to all.
To the students she wasn't a teacher in the normal sense but more a friend, mentor and big sister type character. All teachers would like their epitaph top read 'Loved by all' and for Pauline there is no doubt that all her pupils loved her. The Blayney Blade has been hushed, the Lexus parked, the cigarette extinguished, a loving heart beats no more. A light has gone out in the Louis, Castleblayney and much further afield but how fitting that Pauline went to join her beloved mother on Mothers Day – Perfect timing as always Devo!
Photo caption: Pauline Devlin pictured with St. Louis captain and current All Star corner back Grainne Mc Nally just moments after 'The Louis' had won another All Ireland title.