Ulster Ladies win MMI Inter-Provincial Tournament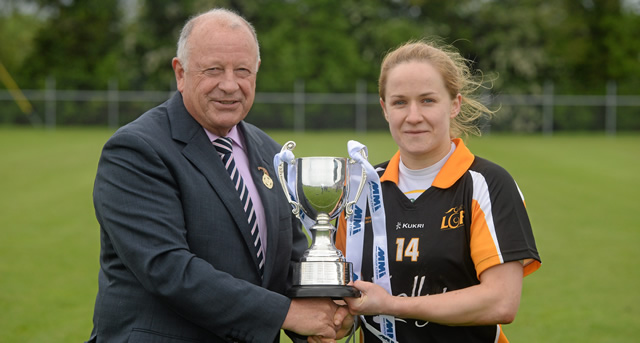 Ulster claimed their third consecutive Mick Talbot title (equivalent to the Railway Cup) when they defeated Connacht by a single point at Kinnegad recently. Before the final it was a day of drama with the Ulster girls playing their part.
Round Robin Stages
Paula Cunningham and Gary Mallon took charge of the side for the first time and the duo could not have asked for a better start as they watched their side hammer Leinster in the first game 5-11 to 0-4. In the second game Ulster struggled in the first half against Munster and despite an excellent third and fourth quarter the girls from down south came away with a 1-10 to 3-6 victory. In order to have any chance of qualifying Ulster needed to win their last game against Connacht. The squad duly delivered with five points to spare winning 3-12 to 3-7. Ulster, Munster and Connacht had all two wins at this stage so it was decided to hold a three way draw. First out went to the final and the other two had to compete in a penalty shoot out. The Ulster hero at this stage of the day was to be Linda Martin. The Monaghan goalkeeper not only saved three Munster penalties but also scored one for her side to help send them through to the final.
The Final
Ulster 2-8 Connacht 2-7
In the final Gemma Begley played a captain's part as Ulster claimed a third successive MMI Interprovincial crown. Tyrone star Begley scored 2-3, including 2-1 from play. Not even a personal haul of 1-7 from Mayo ace Cora Staunton was good enough to prevent defeat for Connacht as their long wait for a first interprovincial crown since 2000 continues for at least another year.
Despite playing with the breeze from the start, Ulster were just a point ahead at half-time, 1-5 to 2-1. Connacht got their noses in front with the game's opening score in the seventh minute – a goal from Leitrim's Áine Tighe after Grace Kelly's shot smashed off the crossbar. But Ulster settled and four points without reply, including a brace from Monaghan's Caoimhe Mohan, pushed the champions in front. Connacht's response was to score a second goal, with Staunton finishing left-footed from close range after her initial effort was saved. In the 19th minute, Begley lashed the ball into an empty net for Ulster's second goal in a seesaw opening half. Staunton's free and a point from Monaghan's Cora Courtney completed the first half scoring and it was Begley who got the ball rolling in the second half with a point.
Two frees from Staunton levelled matters but Ulster regained the advantage when Therese McNally scored her second point and Begley netted again. Staunton hit back for Connacht with two points, including a free, before Begley's free ensured a three-point buffer for Ulster – 2-8 to 2-5. Connacht got back to within striking distance with a late brace of points from prolific forward Staunton but the clock was against the Westerners as Ulster held firm.
Connacht, Ulster and Munster finished level on points following the group phase, with Connacht drawn out of the hat to advance straight to the final.
Scorers for Ulster: G Begley 2-3 (0-2f), C Mohan & T McNally 0-2 each, C Courtney 0-1.
Scorers for Connacht: C Staunton 1-7 (0-5f), A Tighe 1-0.
The Ulster Squad
Gemma Begley (Tyrone), Rosie Crowe (Cavan), Niamh Kindlon (Monaghan), Neamh Woods (Tyrone), Caroline O'Hanlon (Armagh), Amanda Casey (Monaghan), Linda Martin (Monaghan), Katie Daly (Armagh), Ellen McCarron (Monaghan), Donna English (Cavan), Roisin O'Keeffe (Cavan), Grainne McGlade (Cavan), Mags McAlinden (Armagh), Karen Feeney (Donegal), Kate Keaney (Donegal), Clara Fitzpatrick (Down) Caoimhe Morgan (Armagh), Therese McNally (Monaghan), Sinead Fegan (Down), Ciara McAnespie (Monaghan), Cathriona McConnell (Monaghan), Joanne Geoghegan (Monaghan), Yvonne Connell (Monaghan), Caoimhe Mohan (Monaghan), Niamh Henderson (Armagh), Cora Courtney (Monaghan), Sinead Greene (Cavan), Eileen McElroy (Monaghan).