Féile na nGael 2014 Round-Up
Following months of planning Féile na nGael finally descended on Ulster over the weekend of 20th to 22nd June.
Hurling, Camogie and Handball clubs from across Ulster and County Louth welcomed clubs from throughout Ireland for a weekend of Gaelic Games in what was surely the biggest mass participation event in Ireland this year.
Clubs arrived on Friday 20th June and played the first of their Group games against their host club, who provided accommodation throughout the weekend. Following the games two Opening Ceremony events were held in Owenbeg, Co. Derry and Armagh's Athletic Grounds. The parade of teams brought a terrific excitement and colour to the venues.
It was an early start on Saturday morning as teams travelled to various venues for the remaining two Group games. Following the Group stage the teams finishing first and second in each group proceeded to the Cup competition and the bottom two teams played in a Shield competition. This ensured that all teams played a minimum of 4 games over the Féile weekend.
The Handball competition was held on Saturday in Carrickmore, Loughmacrory, Breacah, Saval, Scotstown and Belfast, with great skill and dedication on display from the young exponents of the game.
Following Saturday's games all host clubs held a variety of social events to entertain their visitors. The beautiful weather ensured that many events were held 'al fresco' with barbeques the norm in most clubs.
Sunday morning saw the Semi Finals being played at various venues close to the main Finals locations at Owenbeg Centre of Excellence in Derry and Garvaghey, 'The Home of the GAA in Tyrone'.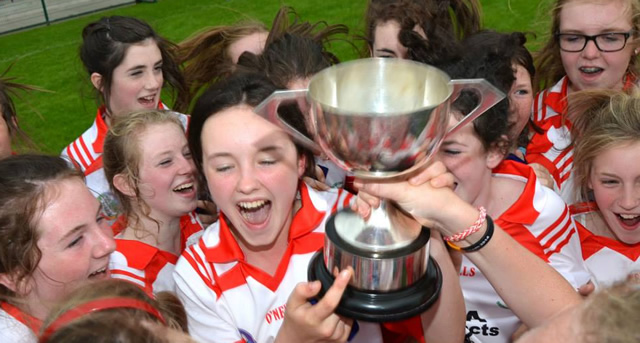 In all a total of 23 finals were played on Sunday 22nd June before our visitors departed with many happy memories and many new friends from their brief visit to Ulster.
Féile na nGael Cup Winners 2014
| | |
| --- | --- |
| Division 1 Hurling | Kevin Lynch's Hurling Club (Derry) |
| Division 2 Hurling | Naas (Kildare) |
| Division 3 Hurling | Ferbane/Belmont (Offaly) & Slaughtneil (Derry) |
| Division 4 Hurling | Corofin (Clare) |
| Division 5 Hurling | Bray Emmett's (Wicklow) |
| Division 6 Hurling | Naomh Monnine (Louth) |
| Division 7 Hurling | Drumcullen Og (Offaly) |
| Division 1 Camogie | Loughgiel Shamrocks (Antrim) |
| Division 2 Camogie | Swatragh (Derry) |
| Division 3 Camogie | Clonkill (Westmeath) |
| Division 4 Camogie | Kilconieron (Galway) |
| Division 5 Camogie | Leitrim |
Féile na nGael Shield Winners 2014
| | |
| --- | --- |
| Division 1 Hurling | O'Donovan Rossa (Antrim) |
| Division 2 Hurling | Swatragh (Derry) |
| Division 3 Hurling | St Earnan's |
| Division 4 Hurling | Derrynoose (Armagh) |
| Division 5 Hurling | St Paul's (Antrim) |
| Division 6 Hurling | Our Lady's Island (Wexford) |
| Division 7 Hurling | Crookedwood (Westmeath) |
| Division 1 Camogie | Crannford (Wexford) |
| Division 2 Camogie | Bredagh (Down) |
| Division 3 Camogie | De La Salle (Waterford) |
| Division 4 Camogie | Ballerin (Derry) |
Féile na nGael Skillstar Winners
| | |
| --- | --- |
| Hurling Winner | Sean O'Connor (Limerick) |
| Christy Ring Winner | Brian Lonergan (Kerry) |
| Nicky Rackard Winner | Kyle Dillon (Donegal) |
| Lory Meagher Winner | Michael O'Brien Leitrim |
| Camogie Winner | Ciara O'Looney (Westmeath) |
Féile na nGael Handball
| | |
| --- | --- |
| Division 1 Boys | Carrickmore (Tyrone) |
| Division 2 Boys | Loughmacrory (Tyrone) |
| Division 3 Boys | St Josephs (Wexford) |
| Division 4 Boys | Kells (Kilkenny) |
| Division 5 Boys | Crinkle (Offaly) |
| Division 6 Boys | Kingscourt (Cavan) |
| Division 1 Girls | Clann Eireann (Armagh) |
| Division 1 Girls | Loughmacrory (Tyrone) |
| 60 x 30 | Lahorna (Tipperary) |
Féile na nGaelHandball Skills Results:
| | |
| --- | --- |
| Div 1/2 Boys | Antoin Fox (Loughmacrory) |
| Div 3 Boys | Michael Kylie (Abbeyside) |
| Div 4 Boys | Eoin Brennan (Kells, Kilkenny) |
| Div 5/6 Boys | Rory Grace (Lahorna) |
| Girls | Leah Doyle (Leixlip) |
| 60 x 30 | Sean McAdams (Lahorna) |
Photo Gallery
A full gallery of photos from the Féile weekend can be viewed on the Ulster GAA Facebook Page