Phoenix Ulster GAA Elite Academy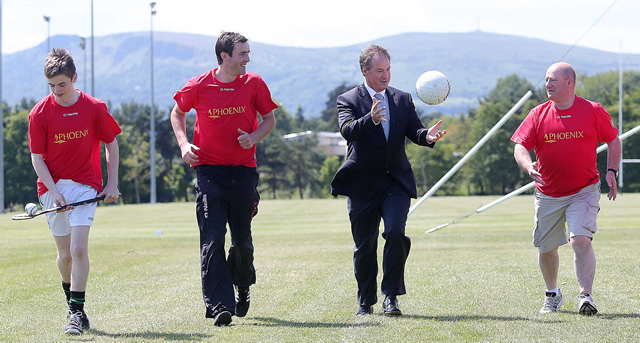 Ulster GAA has, for the last 12 years, invested a lot of time and effort into the development of young players across the playing continuum. Programmes of development have been put in place for players from childhood through our physical literacy programme in primary to the Academy Squads at County level right through to coach education programmes that focus on the development of players at senior and high performance levels.
One of the most successful of these programmes is the Phoenix Ulster GAA Elite Academy, which identifies the best young Under 16 footballers and hurlers within Ulster and exposes them to the rigors of high performance development over a two day camp at the University of Ulster at Jordanstown.
From arrival at the camp the young players are introduced to an environment that focuses on high performance, which many can only dream to be a part of. In essence the lads experience what it would be like to be a full time professional player. Players' hydration levels are taken on arrival and following a camp introduction, in the lecture theatre, and an Ulster GAA Activate Warm up, it is down to work as the footballers begin team games to try to get the players to know each other and to break down barriers to performing as a unit. The hurlers are met by the Sports Scientist with Ulster GAA, Kevin McGuigan , who distributes the heart rate monitors and the 'Global Satellite Positioning' units which will record distance travelled against heart rate during small sided games.
Expert advice on functional movement, use of foam rollers for 'prehab', 'rehab' and self-massage is given by the staff at the Sports Institute NI and structured coaching sessions are delivered by the Ulster GAA staff throughout the camp.
At the end of the camp all players get feedback on their own individual performances over the two days and then get a number of goals for their future development.
Following the camp the footballers will play a challenging high level game on 5th August in the Athletic Grounds, Amagh. Following further training sessions, the hurlers will play against Galway and a Connacht select at the Connacht Centre of Excellence in Ballyhaunis, Co Mayo.
Ulster GAA is indebted to Phoenix Gas for their sponsorship of the camp, which over the years has proved to be a major stepping stone for young players who progress to play Minor and Senior for their Counties. Current stars who attended the camp include footballers Michael Murphy and Paddy McBrearty (Donegal), Peter Hart (Tyrone) and hurlers Neal McAuley, Niall McManus and Aaron Graffin (Antrim), Conor Woods (Down) and Aaron Kelly (Derry).
Ulster GAA President Martin McAviney congratulated the participants in this years Academy:
"We had a group of outstanding young players at this years academy all of whom have a bright future in the GAA. All the participants received first class coaching, nutrition and sports science sport from Ulster GAA top coaches and mentors. I want to thank everyone who took part over the last couple of days and highlight the continued support we receive from Phoenix and thank them for their investment in our future stars."
Alastair Pollock, Business Development Director of Phoenix Natural Gas, said:
"Phoenix takes its corporate responsibility very seriously and we have a long history of supporting young people. We feel that our young people need as much help as possible to enable them reach their full potential, whether that be through the arts, education or on the sports field. We are delighted that our award-winning community programme includes this partnership with the GAA and a long term commitment to supporting local talent."