London Calling for Cross Community Dungannon Cúchulainns GAA Teams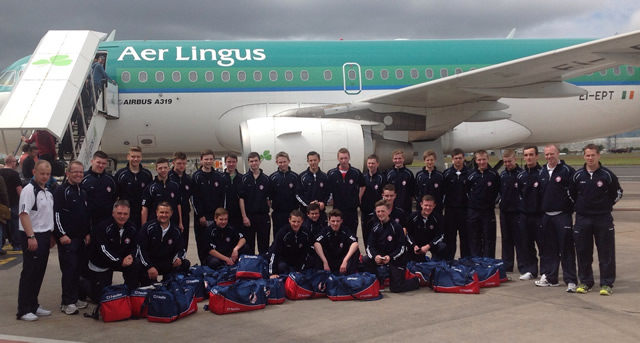 Twenty four young men from Dungannon travel to London this weekend to represent Ulster GAA in the All British Championships. The boys are representing two schools making-up the Cúchulainns, Integrated College Dungannon and St Patrick's Academy Dungannon. Teachers Jody Kelly, Kevin Collins and Mel Taggart have gave up their summer holidays to accompany their pupils on this once-in-a-lifetime trip. Earlier this year in May over 500 young men participated in the Cross Community Cúchulainn Cup blitz with schools coming from both the maintained and controlled sector in the Tyrone GAA Centre Garvaghey.
Speaking ahead of the trip Ulster GAA President Martin McAviney said, "The Cúchulainn Initiative continues to be Ulster GAA's flagship Cross Community Project which uses Gaelic Games to break down barriers and build community relations in the education sector. Ulster GAA is committed to the development of a shared future based on tolerance and respect for the differing cultural traditions that share our community.
"This year we are delighted to include the London trip for Dungannon Cúchulainns as it provides a unique opportunity to bring together young men from across the different backgrounds to travel and represent their families, their schools, their communities and their county. Many new friendships will be forged during this trip and that really goes to prove the strength of sport in building Peace and Reconciliation."
In preparation for the trip, the team had an away day last week in Dublin, where they had an opportunity to train collectively in Parnell Park, before taking in a tour of the GAA Headquarters at Croke Park, during which they viewed the stadium and museum as well as meeting the organisation's Director General, Pauric Duffy.
During their stay in London, the Dungannon side will be hosted in Ruislip for a warm up game against Granuaille on Thursday evening. On Saturday and Sunday the team will be participating in both the U16 Football and Hurling Championships in Greenford were they will play against teams from England, Scotland and Wales.