London girls take part in Gaelic Football Tour to Ireland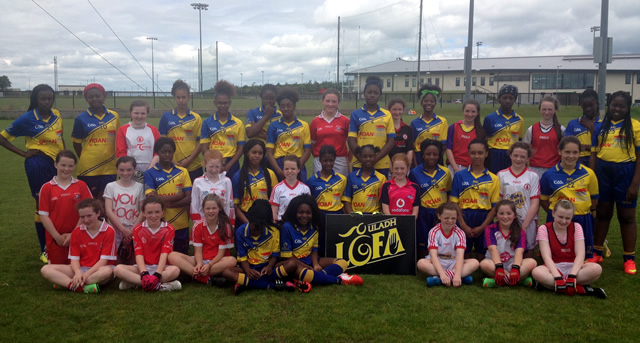 A party of U14 girls from St Paul's Academy and St Thomas More School in London have just completed a three day Gaelic Football Tour to Ireland. This was the first Tour to Ireland for the girls.
An extensive programme of activities was arranged for the tour including visits to the Giant's Causeway, UUJ, Derry's Walled City, Belfast City Hall, Blitz day in Tyrone's Garvaghy Complex and their first 15 a side match versus Trillick U14 girls.
Ulster LGFA would also like to thank the teachers of St Pauls who were led by Eadaoin Devine, St Pauls Principal Patrick Winston and the families in Dunamanagh and Glenmornan, Co. Tyrone, who were magnificent hosts during their time in Ireland.
Ulster GAA coaches Mags McAlinden and Joe McMahon put the girls through their paces at UUJ on Wednesday. The focus of Mags' session was "Good Kicking Technique" and Joe had "Decision Making On The Ball" for his session. After the session and mini blitz the girls had a Question & Answer forum with Mags and Joe on the huge success they have had with their own counties and clubs.
On the Thursday the girls took part in a mini Blitz day at Tyrone's Garvaghy Complex against Trillick. They finished with their first ever 15 a side Ladies Football match at the sun kissed venue.
The tour was a resounding success and it was a pleasure for Ulster LGFA to have played a part in their visit.?