Monaghan see off Armagh in replay
Ulster Senior Football Championship Semi Final Replay:
Monaghan 1-18 Armagh 1-13
Monaghan have set up an Ulster final rematch with Donegal after seeing off Armagh in Sunday's semi-final replay at Clones.
The defending Ulster champions were vastly improved from the side which drew with Armagh eight days earlier and were more convincing winners than the five-point winning scoreline suggests. Conor McManus top-scored with 1-7, including a superb goal after 32 minutes.
Armagh finished the game with 14 men after using all six substitutes prior to Stefan Campbell's black card on 62 minutes.
Monaghan were the better team from early on and Armagh's goal after 12 minutes came against the run of play. Tony Kernan's hand-pass over the top of a few defenders was well collected by Aidan Forker, who cut inside and curled a left-footed shot towards the far corner. It crashed off the crossbar but the unmarked Aaron Findon was there to palm the rebound into the net for an easy finish.
It put Armagh 1-1 to 0-2 ahead but Monaghan were not long in wiping out the deficit. Conor McManus kicked 1-3 in the first half and opened his account in the 15th minute with a superb left-footed effort and subsequent frees from Paul Finlay and Rory Beggan had Monaghan ahead within six minutes of Armagh's goal.
Finnian Moriarty was black-carded for tripping McManus after 22 minutes and was replaced by Andy Mallon. Monaghan had all the momentum and McManus converted a superb free from the sideline with his right foot to stretch his team's lead.
At the other end, however, the key men who had excelled for Armagh in the drawn game were having no impact.
Kevin Dyas, Stefan Campbell and Jamie Clarke led the fight a week earlier but Clarke was off-colour and missed a simple 25m free.
Tony Kernan converted two subsequent frees from the wrong side for a right-footed kicker instead of Clarke. Then, minutes from half-time, Conor McManus had the ball in the back of the net for Monaghan. Beggan's long kickout bounced over several players' heads before being caught by Kieran Hughes who delivered a superb long pass into McManus.
Having got in behind the Crossmaglen defender, his finish was superb drilling the ball beyond Philip McEvoy. Monaghan led 1-8 to 1-4 at half-time and stretched that lead out to 1-13 to 1-6 after 47 minutes.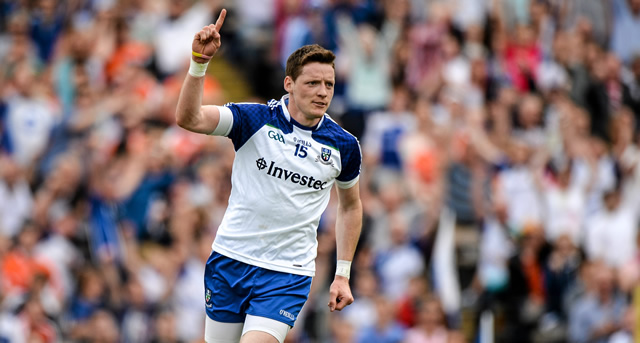 Armagh's best spell of the match came in the middle of the second half when they scored three points in a row to reduce the deficit to four points. A monster point from Paul Finlay from out on the far sideline ended a ten minute scoring drought for Monaghan and averted a mini crisis.
Jamie Clarke had a quiet game but still scored 0-5 in the second-half, four from play, but most of his scores came when the game was effectively over as a contest.
McManus was inspirational and he converted a superb sideline ball as Monaghan made it through to back-to-back Ulster finals for the first time since 1943-1944.
—
Scorers for Monaghan: C McManus 1-7 (3f), P Finlay 0-3 (1f), D Hughes 0-2, R Beggan 0-2 (2f), D Clerkin, S Gallogly, D Malone, C McGuinness 0-1 each
Scorers for Armagh: T Kernan 0-7 (6f), J Clarke 0-5 (1f), A Findon 1-0, E McVerry 0-1
MONAGHAN: R Beggan; R Wylie, D Wylie, C Walshe; D Mone, V Corey, F Kelly; D Clerkin, D Hughes; P Finlay, S Gallogly, P McKenna; D Malone, K Hughes, C McManus. Subs: C McGuinness for K Hughes (HT), G Doogan for Clerkin (67)
ARMAGH: P McEvoy; J Morgan, C Vernon, F Moriarty; M Shields, B Donaghy, C McKeever; K Toner, A Findon; E McVerry, K Dyas, A Forker; T Kernan, S Campbell, J Clarke. Subs: A Mallon for Moriarty (BC, 23), K Carragher for McVerry (HT), S Harold for Toner (HT), M Murray for Morgan (40), A Kernan for Donaghy (46), R Grugan for Forker (59).
REFEREE: Marty Duffy (Sligo).
—
Report: Orla Bannon