Cavan land All-Ireland Junior Title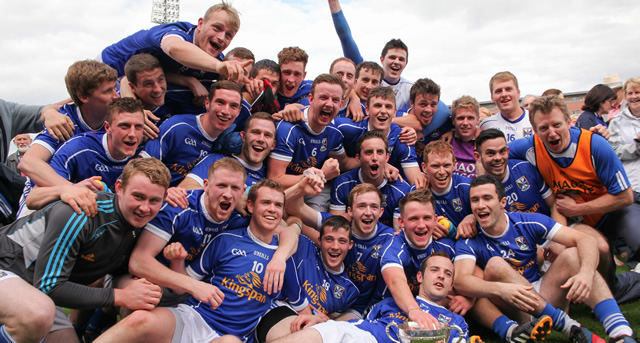 A young Cavan side ended a 62-year wait for a male All-Ireland football title of any description when two goals from teenager Tom Hayes helped their junior side deservedly see off Kerry in Portlaoise.
These are heady days for the Breffni faithful, who have seen their county underage sides win five Ulster titles since 2011, but this victory will be one of the sweetest of the lot, coming, as it did, against the bluebloods of the Kingdom and after a senior season which proved to be a crushing disappointment.
And they did it in some style. Having played with a stiff breeze, Cavan led by 1-7 to 0-6 at the break. With Conor Moynagh exerting considerable influence in the 'quarter-back' role, Cavan had a constant supply of quality ball to trigger men Paul O'Connor and Tom Hayes.
They led by 0-3 to 0-1 after 10 minutes with points from Hayes, Enda O'Reilly and a 45 from Chris Conroy, and further scores from O'Connor and Enda Hessin made it 0-5 to 0-2 on the quarter-hour mark.
The Kingdom, though, were moving ominously well up front – full-forward Paul Kennelly had fired over two beauties early on and the Munster champions twice carved open the packed Breffni defence, only for both Thomas Hickey and Ciaran Keating to smash their shots off the crossbar.
Cavan regrouped and after Conroy – with another 45 – and Gavan O'Grady traded scores, Hayes buried a magnificent goal, scorching the earth along the endline and firing a bullet to the roof of Shane Murphy's net.
Suddenly, five points ahead, the 7/2 underdogs began to sense they had the winning of it. They matched Kerry score for score on the restart before Hayes struck again, reacting quickest after Enda O'Reilly's shot was saved, and palming to the net.
He followed up with a point to put eight between the sides before the inevitable Kerry onslaught; Stephen Wallace's troops dominated the final quarter but could only muster five points, even as Cavan – the end of the famine in sight – panicked.
Late points from David Hyland and the pacey Enda Hessin sealed the deal, though, and Cavan held on.
Cavan: J Farrelly; D Barkey, J Morris, F Reilly; C Brady, B Sankey, P Smith; L Buchanan, P Leddy (B Doyle, 52mins); C Moynagh (F Smith, 58mins), C Conroy (0-2, 2 45s) (D Hyland 0-2, 1f, 48mins), E O'Reilly (0-2, 1f) (N Clerkin, 57mins); T Hayes (2-2), E Hessin (0-4), P O'Connor (0-2, 1f) (N Smith, 46mins)
Kerry: S Murphy; M Brennan, K O'Dwyer, D Wrenn (S Moloney, 23mins); G Gibson, D Daly (A O'Donoghue, 33mins), G Crowley; A Garnett (D Roche, 45mins), B O'Sullivan; P O'Connor (0-2, 1f) (P Ó Sé, 43mins), C Keating (0-1), B Crowley (0-1f) (E Walsh, 0-2, 47mins); G O'Grady (0-4, 1f), P Kennelly (0-3), T Hickey (0-1)
Referee: J Henry (Mayo)
Attendance: 1,200