Disappointment for Donegal Minors & Seniors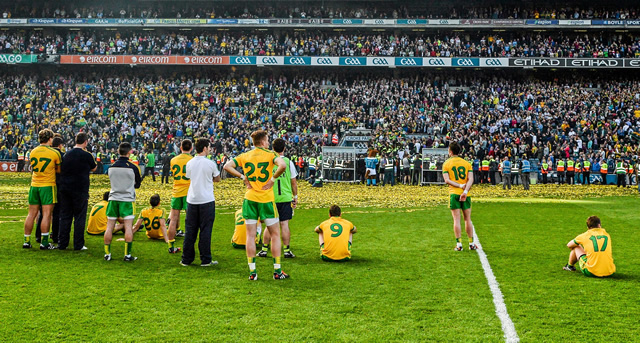 It was a day of disappointment for Donegal in Croke Park on Sunday as they lost out to Kerry in both the Minor and Senior All Ireland Football Championship Finals.
GAA Football All-Ireland Senior Championship Final:
Kerry 2-9 Donegal 0-12
Of all Kerry's 37 All-Ireland wins, this was surely their most unlikely. Having been written off by pretty much everyone at the start of the year – a new team, a rookie manager, an injury to their star player and a host of multiple All-Ireland winners having retired at the start of the season – the Kingdom came to Croke Park and proved exactly why they are the aristocrats of Gaelic football.
If Kerry's was an unlikely success story, Kieran Donaghy's emergence as their match-winner and saviour for the third game running was equally incredible. 'Star' proved his enduring quality once again with the goal that changed the game in the 52nd minute, intercepting Paul Durcan's weak kick-out and placing a superb shot to the back of the net, to add to the two points points he scored and the general mayhem he caused on the edge of the square.
Match Stats
Kerry-Donegal
Own kick-outs: 19-14
Own kick-outs won: 11-15
Own %: 58%-63%
Shots: 32-24
Scores: 11-12
Scores: 34%-50%
Turnovers Lost: 7-7
It was all the more remarkable, too, because Kerry kicked 13 wides over the 70-odd minutes and their top scorer James O'Donoghue failed to score in the game, having been shackled superbly by Neil McGee and forced to spend most of his time coming deep in a frustrated attempt to have some impact on the game.
While Donaghy had no direct involvement in Kerry's first goal, which, remarkably, came inside the first minute, all eyes were on the giant Austin Stacks man from the throw-in when Kerry instead went straight for Paul Geaney, who like a ghost had swept unmarked into the area and fired Kerry into a lead they would never give up to Donegal.
At the very end of an absorbing second half, Donegal, who had won on each of their two previous All-Ireland final appearances, had a chance to force a replay, but when the loose ball fell for Colm McFadden in the second minute of added time, he struck a post and 'Sam' was heading to the south-west.
Kerry won the game despite hitting eight wides in a second half they dominated, and it would have been cruel had they been denied on a day when they kept punching holes in Donegal's packed defence until they finally created some gaps in the final quarter.
Donegal were still hanging in at 0-7 to 1-4 at the end of a third quarter that produced just one point for each side when Killian Young was fouled by Donegal defence that had been hugely disciplined up to that point. Barry John Keane snapped over the free and then Donaghy pounced on Durcan's wayward kick-out to spark a manic, free-scoring final 18 minutes.
Donegal hit back with three quickfire scores, Patrick McBrearty slinging over two after coming off the bench and Neil McGee adding another after an impressive raid from the back, leaving a point in it with 15 minutes left.
By now, cracks were starting to appear in Donegal's defensive wall, however, and Kerry hit back with three successive points of their own. Johnny Buckley started that run with a superb shot he lofted over the blanket, before Keane knocked over a second free and then Donaghy, who won yet another high ball placed in the area he thrives and fisted over the bar, put Kerry four clear with 10 minutes left, a position they somehow managed to lose the 2011 final to Dublin from.
Although he was a picture of calm on the line, Kerry manager Éamonn Fitzmaurice must have been in agony on the sideline when first sub Dermot Molloy and then Christy Toye ate into that precarious lead. For the 2011 survivors – Declan O'Sullivan, Donaghy, Tomás Ó Sé, Aidan O'Mahony, Donnchadh Walsh and Killian Young – their thoughts must have gone back to that harrowing experience three years ago.
But in the closing stages, Kerry's calm assurance and ability to close out the game must have given their young manager huge satisfaction. Instead of panicking, the Kingdom held onto the ball and toyed with Donegal, passing laterally in front of their defensive wall before the 2012 champions' patience finally cracked and they conceded a free, which Bryan Sheehan converted seconds after coming on as a sub in the 69th minute.
Having failed to create any real goal chance over the course of the game – a Darach O'Connor attempt from a narrow angle in the 25th minute notwithstanding – Kerry must have felt that with a three-point lead the game was as good as won. Donaghy was even taken off in the final minute and was given a hero's reception by a jubilant Kerry support.
There was one final twist, however, when, with the game just having entered the third minute of added time, Donegal carved out their best chance of the game. McBrearty grabbed possession in a crowded goalmouth and his shot was half-blocked by Brian Kelly, but the loose ball fell to McFadden and he could only fist it onto the post.
Kerry survived, and they deserved to. Completing the minor and senior double for the first time since 1980, the Kingdom delivered the clearest statement of their eminence as the country's greatest force.
Many expected a tight, tactical battle, and that madcap opening aside, that's how the first half turned out. Both sides set up very defensively and the free-flowing football of the semi-finals was a distant memory as Donegal crowded their defence, aware of the aerial threat Kerry carried in attack.
Donegal's first three points all came from the boot of Michael Murphy, who punished Kerry's indiscipline in defence – by contrast Donegal conceded one free in the first half – with a succession of booming efforts with his right boot, before McFadden added a fourth from a placed ball in the 23rd minute.
Both sides then had good goal chances. Rory Kavanagh broke the gain line for Donegal and sent Darach O'Connor – who was a surprise inclusion in the Donegal team – through, but his shot slipped through Kerry goalkeeper Brian Kelly's legs and trickled wide.
O'Donoghue struggled to make any sort of impact in the first half such was McGee's tight marking, but when he did get the ball he immediately sought out Donaghy or Paul Geaney on the edge of the square. On 27 minutes, Geaney rose brilliantly, created the space for himself cleverly but blazed over the bar.
Darach O'Connor's missed goal chance was his last involvement, with Toye coming on in his place after 28 minutes. Toye brought a huge injection of energy to Donegal's play and they kicked the last two points of the half, through Odhrán Mac Niallais and Karl Lacey, to level at half-time, 0-6 to 1-3.
Within two minutes of the restart, Murphy became the first Donegal forward to score from play when he kicked a peach of a point, before Paul Murphy replied with a rare score for Kerry.
Twelve painstaking minutes without a score elapsed before Keane's free ended the stalemate and Donaghy's goal breathed a fresh impetus into the game. The rest will go down in Kerry folklore, their 37th All-Ireland title and the completion of a rare double that reasserts their place at the very top.
Scorers for Kerry: Paul Geaney 1-2 (0-1f), Kieran Donaghy 1-2, Paul Murphy 0-1, Barry John Keane 0-2 (0-2f), Johnny Buckley 0-1, Bryan Sheehan 0-1 (0-1f).
Scorers for Donegal: Michael Murphy 0-4 (0-3f), Colm McFadden 0-1 (0-1f), Odhrán Mac Niallais 0-1, Kark Lacey 0-1, Patrick McBrearty 0-2, Neil McGee 0-1, Dermot Molloy 0-1, Christy Toye 0-1.
KERRY: Brian Kelly; Marc Ó Sé, Aidan O'Mahony, Fionn Fitzgerald (capt); Paul Murphy, Peter Crowley, Killian Young; Anthony Maher, David Moran; Stephen O'Brien, Johnny Buckley, Donnchadh Walsh; Paul Geaney, Kieran Donaghy, James O'Donoghue. Subs: Michael Geaney for Stephen O'Brien (HT), Barry John Keane for Paul Geaney (49), Shane Enright for Fionn Fitzgerald (55), Declan O'Sullivan for Donnchadh Walsh (57), Bryan Sheehan for David Moran (68), Kieran O'Leary for Kieran Donaghy (71).
DONEGAL: Paul Durcan; Éamonn McGee, Neil McGee, Paddy McGrath; Anthony Thompson, Karl Lacey, Frank McGlynn; Neil Gallagher, Odhrán Mac Niallais; Rory Kavanagh, Leo McLoone, Ryan McHugh; Darach O'Connor, Michael Murphy (capt), Colm McFadden. Subs: Christy Toye for Darach O'Connor (28), Patrick McBrearty for Ryan McHugh (46), Martin McElhinney for Odhrán Mac Niallais (52), David Walsh for Leo McLoone (58), Dermot Molloy for Rory Kavanagh (64).
Referee: Eddie Kinsella (Laois)
Attendance: 82,184
Report: Brian Murphy (gaa.ie)
—
Electric Ireland All Ireland MFC Final:
Kerry 0-17 Donegal 1-10
Kerry are All-Ireland Minor Football champions for the first time since 1994 after holding off a spirited Donegal comeback to win by four points at Croke Park on Sunday.
The Kingdom are now back on top of the roll of honour in their own right on 12 titles, and the win also created a significant bit of history for manager Jack O'Connor – he is only the second man after Mickey Harte to guide a team to minor, U21 and senior All-Ireland titles.
Kerry were the better side throughout and leading by six points with 10 minutes to go, they looked as though they were cruising to the title. However, a goal from Donegal's Jamie Brennan sparked a late comeback and when it was followed by two quick-fire points, the lead was down to one with five minutes to go.
However, Kerry finished the game brilliantly with points from Tom O'Sullivan, Jordan Kiely and Killian Spillane securing the victory for them.
Spillane top-scored with 0-5 while two of O'Connor's substitutions also proved significant, Liam Carey and Jordan Kiely coming on and kicking 0-4 between them from play.
A tight first half came to an end with Kerry leading 0-8 to 0-6. Both sides were guilty of some poor wides in the first half, but there was also plenty of quality on display as the sun poured down on the Croke Park pitch.
The sides traded the first six points, Jamie Brennan, Stephen McBrearty and Caolán McGonagle on target for Donegal and Spillane (free), Matthew Flaherty and Micheál Burns registering the early scores for Kerry.
There was a flurry of scores towards of the end of the first quarter, with Kerry taking the upper hand in the game. Points from Barry O'Sullivan and Burns edged them two clear, and while the gifted McBrearty kept Donegal in touch with a booming effort, Kerry led 0-6 to 0-4 at the end of the first quarter.
Defences tightened up considerably for the second quarter, but the best two points of the half came in quick succession on 20 minutes – a superb score from Cian Mulligan putting Donegal one behind before Spillane scored a gem off his right to restore the two point lead.
Kerry were three clear before the break through a Spillane free, but a John Campbell free completed the first half scoring.
Jordan Kiely, surprisingly dropped for this game, came on at half-time and immediately found his range as he edged Kerry three clear with a good score on the turn, and it was followed by a good score from swashbuckling midfielder O'Sullivan.
Kerry led 0-12 to 0-8 at the end of the third quarter following a brilliant individual score from Liam Carey, but that point was preceded by a bad miss from Donegal's Jamie Brennan. The Bundoran man was clean through on goal, but he shanked the shot badly wide when he should have found the net.
Within five minutes, Kerry's lead was six. The talented Carey landed an excellent point from distance and it was followed by a perfectly executed free from nearly 45 metres from goalkeeper Shane Ryan.
With Kerry leading by six with less than 10 minutes to go, they looked to be in cruise control. However, within seconds of Ryan's point, Brennan made up for his earlier miss with a well-taken goal off his left foot.
Cutting in from the left, he latched onto a diagonal ball, picked his spot and buried the ball into the far corner of the net past Ryan. When it was followed by points from substitute Niall Harley and Lorcán Connor (free) moments later, Donegal trailed by just one point with five minutes left. A stirring comeback.
However, Kerry showed all their class in the closing five minutes, hitting three superb scores to take victory. Corner-back Tom O'Sullivan roamed upfield for the first before Kiely and Spillane wrapped up Kerry's win with scores of real elegance.
Scorers for Kerry: K Spillane 0-5 (3f), M Burns 0-2, B O'Sullivan 0-2, L Carey 0-2, J Kiely 0-2, M Flaherty 0-1, T Ó Sé 0-1, S Ryan 0-1 (1f), T O'Sullivan 0-1
Scorers for Donegal: J Brennan 1-1, S McBrearty 0-2, J Campbell 0-2 (1f), L Connor 0-2 (2f), C McGonagle 0-1 (1f), C Mulligan 0-1, N Harley 0-1
KERRY: Shane Ryan; Dan O'Donoghue, Brian Ó Beaglaoich, Tom O'Sullivan; Brian Sugrue, Andrew Barry, Cormac Coffey; Barry O'Sullivan, Mark O'Connor; Micheál Burns, Brian Rayel, Matthew Flaherty; Killian Spillane, Liam Kearney, Tomás Ó Sé. Subs: Liam Carey for Cormac Coffey (29), Jordan Kiely for Liam Kearney (HT), Robert Wharton for Brian Sugrue (40), S O'Sullivan for T Ó Sé (50), Ivan Parker for Brian Rayel (62).
DONEGAL: Danny Rodgers; Danny Monagle, Ciarán Gillespie, Colm Kelly; Stephen McMenamin, Tony McCleneghan, Cian Mulligan; Eoghan Ban Gallagher, Caolán McGonagle; Stephen McBrearty, Lorcán Connor, Micheál Carroll; Jamie Brennan, John Campbell, Ethan O'Donnell. Subs: Niall Harley for Colm Kelly (37), Gavin McBride for Ethan O'Donnell (47), Christian Bonner for Eoghan Ban Gallagher (51), Ciarán Diver for Niall Harley (57).
Referee: Fergal Kelly (Longford)
Report: Arthur Sullivan (gaa.ie)