Donegal shock Dublin to reach All Ireland Final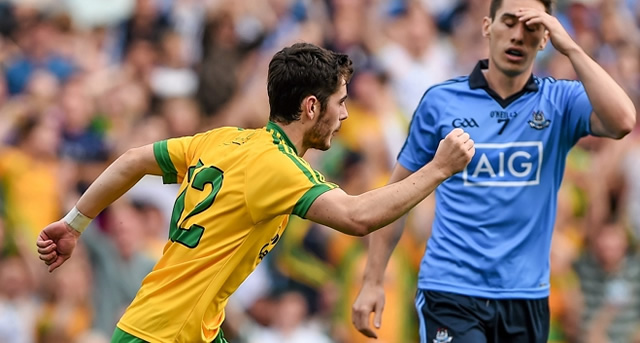 GAA Football All-Ireland Senior Championship Semi-Final:
Dublin 0-17 Donegal 3-14
Donegal are through to the All-Ireland final on September 21, where they will play Kerry, following a memorable six-point win over reigning champions Dublin at Croke Park.
Following their minors' success in reaching their first All-Ireland final earlier in the afternoon, Jim McGuinness's side made it a day that will live forever in Donegal folklore – not only for winning through to another All-Ireland final, but for defying incredible odds to beat the reigning All-Ireland champions and a team considered up to this point to be on an inexorable march to back-to-back titles under Jim Gavin.
It will be the first time since 1979, when Dublin played Kerry in both games, that the minor and senior finals will be contested by the same counties.
Written off by pretty much everyone in the build-up to the game, there will be calls for McGuinness to be beatified after this latest success, which, judging by the celebrations after the final whistle, already ranks up there with what they achieved in 2012.
Although they handed Dublin a five-point lead in the first quarter – it was 0-8 to 0-3 after 23 minutes – Donegal eviscerated their opponents over the remainder of the game, with Ryan McHugh scoring 2-2 and Colm McFadden adding their third goal in the second half.
McGuinness's tactics, perfected at training camp in Johnstown House, worked a treat: Neil Gallagher and Michael Murphy rotated between midfield and full-forward, leaving Michael Darragh Macauley and Rory O'Carroll bewildered and out of the game, while McHugh delivered the perfect performance in a roving role, causing mayhem in the Dublin defence every time he moved into attack.
Allied to that, Donegal defended with such ferocity and intensity, Dublin's acclaimed attack misfired and they were outplayed in midfield, where Murphy, Gallagher and Rory Kavanagh were immense for the winners.
Dublin's defence was totally wiped out for long periods, and the only surprise was that Donegal didn't get more that three goals. McHugh's first goal, just before the break, had Donegal 1-8 to 0-10 up at half-time, having trailed early on following a bombardment by a Dublin attack led by Paul Flynn.
McHugh then hit a second goal three minutes after the restart, and Colm McFadden snatched a third in the 48th minute as the Tír Chonaill men twisted the knife into an already wounded Dublin side.
Dublin did cut the deficit back to four points with a burst of scores, but Patrick McBrearty, just like he did in the semi-final win over Armagh, stood up to the mark and sent over two crucial points from play, while the Dublin attack registered a succession of wides.
—
Dublin Scorers: D Connolly 0-5 (0-1f), P Flynn 0-4, B Brogan 0-3 (0-1f), A Brogan 0-2, P Andrews 0-2, P McMahon 0-1.
Donegal Scorers: R McHugh 2-2, C McFadden 1-3 (0-2f), Michael Murphy 0-3 (0-2f), P McBrearty 0-2, K Lacey 0-1, R Kavanagh 0-1, O MacNiallais 0-1, F McGlynn 0-1.
DUBLIN: Stephen Cluxton; Michael Fitzsimons, Rory O'Carroll, Philly McMahon; James McCarthy, Jonny Cooper, Nicky Devereux; Michael Darragh Macauley, Cian O'Sullivan; Paul Flynn, Kevin McManamon, Diarmuid Connolly; Alan Brogan, Eoghan O'Gara, Bernard Brogan. Subs: Nicky Devereux for J McCaffrey (HT), Kevin McManamon for C Costello (40), Dean Rock for E O'Gara (48), Paddy Andrews for A Brogan (53), Darren Daly for J Cooper (62), Paul Mannion for C O'Sullivan (68).
DONEGAL: Paul Durcan; Éamonn McGee, Neil McGee, Paddy McGrath; Anthony Thompson, Karl Lacey, Frank McGlynn; Neil Gallagher, Odhrán MacNiallais; David Walsh, Leo McLoone, Ryan McHugh; Rory Kavanagh, Michael Murphy, Colm McFadden. Subs: Christy Toye for David Walsh (27), Patrick McBrearty for L McLoone (43), Declan Walsh for N McGee (BC, 58), Martin McIlhinney for R Kavanagh (61), Darach O'Connor for C McFadden (64), Martin O'Reilly for O Mac Niallais (68).
Match Stats
Dublin-Donegal
Kickouts: 22-31
Own Kickouts Won: 19-18
% Won: 86.36%-58.06%
Shots: 36-25
Scores: 17-17
Tackle Turnovers Lost:10-7
Referee: Joe McQuillan (Cavan)
Attendance: 81,500
—
Report: Brian Murphy (GAA.ie)