'GAA For ALL' Resource Launched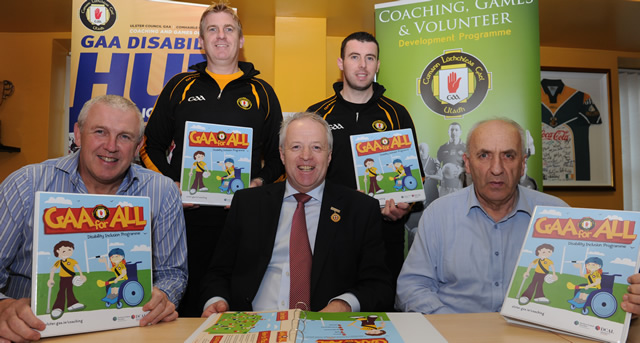 Ulster GAA have developed a new coaching resource as part of their 'GAA For ALL' disability inclusion programme.
This user-friendly pack contains coaching cards showing various games and activities that will help the participants to improve their Fundamentals, hurling and football skills, while assisting them to play through use of modified games.
It also gives guidelines and information to help establish a safe and effective environment, including how to involve someone with a disability in a club setting.
Ulster GAA staff are currently delivering workshops around the province and clubs attending will receive a free copy. For more information contact Paul Callaghan on paul.callaghan.ulster@gaa.ie
Pictured at the launch of the resource are (L-R): Dr Eugene Young (Ulster GAA Director of Coaching & Games), Paul Callaghan (Ulster GAA Regional Development Officer), Martin Mc Aviney (Ulster GAA President), Shane McCann (Ulster GAA Social Inclusion Officer) and Danny Murphy (Ulster GAA Secretary).