Irish News Ulster GAA Health & Wellbeing Conference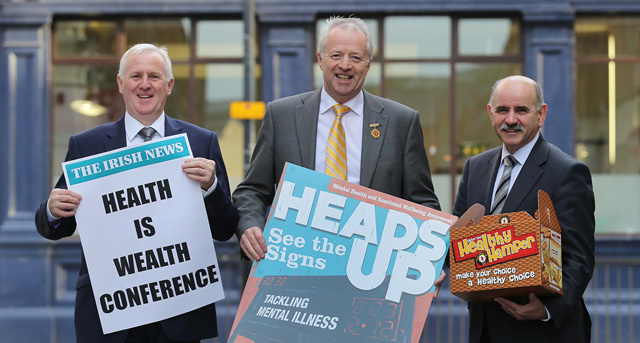 The annual Irish News Ulster GAA Community Conference will take place on Saturday 8th November at the Ramada Plaza Hotel, Shaws Bridge, Belfast. Registration is now open and clubs can register their delegates by contacting Ulster GAA on conference.ulster@gaa.ie or (028) 3751 7180.
The Ulster GAA Community Conference is a long-established event in the GAA calendar, and in the past has focused on a wide range of topics relevant to GAA clubs and their Officers. Workshops on club governance; child protection; increasing volunteering; community outreach; fundraising; CASC / VAT; and many more have been delivered by experts and household GAA names. This year the theme of the Conference will look at the increasingly important area of Health and Wellbeing.
Ulster GAA, along with County Boards and many clubs have increasingly been placed to consider their influence on the wider health and wellbeing of their members and communities. This work has been formalised at National Level through the establishment of thirty two County Health & Wellbeing Committees, and will be further enhanced with the appointment of a Club Health & Wellbeing Officer in every GAA club from January 2015 onwards. This post should be filled at each club's Annual General Meeting by the end of November 2014.
In addition to existing programme such as Live To Play, Ulster GAA has developed additional health and wellbeing programmes in the last 12 months such as Heads Up – Tackling Mental Health; Stand Out From the Crowd; Schools Healthy Hamper; to name but a few. Thus it is fitting that the Conference should focus on some of this work. Not only is attendance at the Conference a requirement of Club Maith; clubs are urged to send along a number of representatives in order to avail of the information on offer bearing in mind this is the first Health & Wellbeing themed Conference of its kind in Ulster GAA.
Ulster GAA President Martin McAviney commented, "Our annual Community Conference is always a great opportunity for club volunteers across the Province to receive very useful advice from leading speakers and organisation, as well as getting together with fellow club delegates to share ideas through the informative workshops. I am delighted that this year's conference will focus on the very important issues of Health & Wellbeing, and I'm sure the day will be invaluable to all delegates in attendance. I would also like to thank the Irish News once again for their continued support of our Community Conference, and their ongoing promotion of our games and activities on a daily basis.
The conference this year will be supported by a number of external organisations including the Public Health Agency (PHA), Cancer Focus NI, The Samaritans and Victim Support NI.
Dr Eddie Rooney, Chief Executive of the PHA said: "Sport has a key role to play in the health and wellbeing of our community. The Public Health Agency works closely with a number of sporting bodies to promote the wide-ranging benefits that sports clubs and communities provide.
"We look forward to continuing to work with sporting bodies to promote healthier lifestyles through physical activity and by being active in promoting positive mental health, good nutrition, and drug and alcohol awareness"
Five workshops will be delivered covering the areas of:
Addressing Addiction:
Delivered by Prof. Jim Lucey (St. Patrick's Hospital) and Niall McNamee (Offaly Footballer) the workshop will look at addiction in the context of mental ill-health, and some of the triggers that can contribute to problems; relaying first-hand experiences of how clubs can support its members.
Coping with Crises:
GAA people will appreciate the role of the GAA club in times of need. Delivered by Dr Niall Muldoon (Psychologist with GPA counselling service), and Colm Keenan (Victims Support NI) this workshop will educate clubs on the grieving process, and what support the club can lend in the hours, days, and weeks following a critical event in the community.
From Playing Well to Staying Well:
Delivered by Anne O'Kane (Cancer Focus NI), Louisa O'Brien and Melissa Conlon (Castleblayney Faughs) this workshop will educate clubs on issues affecting health and wellbeing of their members, and what some clubs have done to address these.
Heads Up' – Mental Health:
Delivered by Laura O'Neill and Monica Acheson (Samaritans), and Alan O'Meara (Cavan Footballer) club members will be informed of practical ways in which to promote positive mental health in their clubs, and will hear personal testimony of how the GAA club setting can be a supportive influence.
Mol and Óige – Club's Enhancing Young People's Health:
Jarlath Burns will combine his many GAA experiences; playing at the highest level with Armagh, his passion for Irish culture, and coaching various teams; with his many years teaching experience to deliver a workshop highlighting the role a GAA club can play in supporting young people through life's challenges.
Other key note addresses will feature including Dr. Conor McClean (University of Ulster), Ciaran McLaughlin (Chairperson of National Health & Wellbeing committee), Eddie Rooney (CEO, Public Health Agency), and Oisin McConville (Crossmaglen & Armagh).
Registration is now open at a cost of £15/€18 per delegate and Ulster GAA is pleased to announce a special discount for the first 20 clubs registered where a club will get 5 delegates for the price of 4 at £60/€72. To register contact Ulster GAA on conference.ulster@gaa.ie or phone Fionntan O'Dowd on (028) 37517180.