GAA Clubs Encouraged to Enhance the Health of Members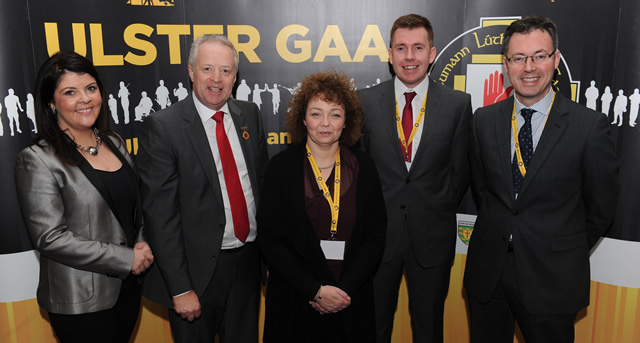 GAA volunteers from across Ulster gathered at the Ramada Plaza Hotel, Belfast on Saturday 8th November for the 2014 Irish News Ulster GAA 'Health is Wealth' Conference.
Close to 300 Gaels attended the flagship community event which was supported by the Public Health Agency (PHA) and the Department of Culture, Arts and Leisure.
Guest speakers at the event included DCAL Minister Caral Ní Chuilín, Dr. Conor McClean of the University of Ulster, Dr. Eddie Rooney of the PHA and Oisin McConville of Crossmaglen Rangers.
Opening the event, DCAL Minister praised the GAA for their work in tackling some challenging health issues, in particular that of mental health and wellbeing.
Minister Ní Chuilín said "I congratulate the Ulster GAA for continuing to address the health and wellbeing of their members and for the health initiatives they have undertaken. Health and, in particular, mental health is a subject that is very important to me. I do believe that the DCAL family and sport in particular can help to raise awareness of mental health issues.This conference will bring a further, very welcome focus on promoting good mental health and the positive effect that participation in sport can bring to those experiencing mental health difficulties. Importantly, the conference shows that the GAA community cares about the health of their members and is there to support them. I hope that this event, in itself, helps to reassure those dealing with mental health issues that they are not alone, and that support is available."
Dr. Conor McClean of the University of Ulster, spoke of the impact that physical activity has on health, reflecting on how an approach to convenience living and sedentary living has contributed to an increase in a range of diseases. Illustrating the negative effect that just a single 'Ulster Fry' can have on arterial health, the good news was that exercise can counter this.
Undoubtedly for many present the highlights of the day were the contributions of GAA stars Oisin McConville and Niall McNamee, who spoke of their personal journeys through addiction and of Alan O'Mara who addressed his battle with depression. While reflecting on difficult times, the key message coming from all three was the importance of seeking help.
In his keynote address McConville held the room captive as he reflected on the depths to which his gambling addiction had taken him. Crucially however he noted how far the GAA had come since he first underwent his treatment in terms of offering support and signposting to members in difficulty.
Derry GAA star Kevin McCloy was also present on the day as an ambassador for the Cormac Trust, and he shared his own story having suffered a cardiac arrest in August of this year. McCloy highlighted the importance of defibrillators on site and of ensuring their upkeep and having people trained.
The GAA clubs present were encouraged to formalize their efforts in addressing health by appointing a designated officer to take charge of this agenda. This directive, which comes into force from January, was pressed by the Chair of the GAA's National Health and Wellbeing Committee, Ciaran McLaughlin who wrapped up proceedings with a word of encouragement on the impact the GAA community can have in this crucial area.
Workshops delivered on the day covered topics such as addiction, mental health, coping with crises, club health and wellbeing and youth health. The 'Health is Wealth' conference also included a comprehensive exhibition area which provided delegates with a raft of information relevant to both GAA business and Health and Wellbeing.
Dr Eddie Rooney, Chief Executive of the Public Health Agency said "Improving health and wellbeing is a challenge for all agencies and sporting bodies such as the GAA have a key role to play in this. It is every bit as important to look after our mental and emotional health as it is physical health and to proactively work to address the issues such as alcohol misuse. It is essential that as sports people, we look after our own bodies and minds, but we also have a responsibility, through organisations such as the GAA, to contribute to the health and wellbeing of the whole community."
Ulster GAA President Martin McAviney said, "The Irish News Ulster GAA 'Health is Wealth' Conference has been a huge success. The fact that we have attracted so many club volunteers underlines the importance the GAA community place on this area of work. It is inspiring to hear the experiences of some of our players who have faced challenges but have come through to share their story and support others who are in similar circumstances. In Ulster GAA we are committed to this agenda and will continue to raise awareness of issues and services through our many campaigns and resources and by signposting our members to professional help."
Following the success of the 'Health is Wealth' conference and to support the appointment of Club Health and Wellbeing officer, from January Ulster GAA will be providing training for all volunteers who take up the role as part of their Club Officer Development programme.