Three sports commit to 'Tackle Bullying Now'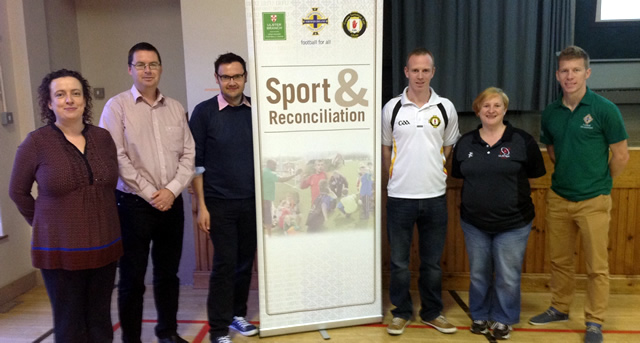 Over 60 volunteers from GAA, IRFU (Ulster Branch) and the Irish FA came together recently at the "Tackle Bullying Now" workshops held in Banbridge and Magherafelt.
Lee Kane (Northern Ireland Anti Bullying Forum) and Paul Stephenson (NSPCC) facilitated the workshops aimed at protecting both young people and volunteers across each of the three codes.
It is hoped these workshops will support clubs to "Build an Anti-Bullying culture in Sport" as well as helping volunteers in "Understanding the attraction and risks of Social Media".
The 'Tackle Bullying Now' events form part of a wider joint project between the three sporting Associations designed to help increase club capacity through sport at local level. The Sport in the Community Programme, funded by the Department for Social Development, supports the three sporting bodies to work together in developing volunteering best practice, community development and good relations.
Speaking of his involvement with the event, Lee Kane, NIABF Regional Anti-Bullying Coordinator, said:
"The Northern Ireland Anti-Bullying Forum (NIABF) is the lead regional body in all matters related to tackling bullying in our schools and in our communities. We are delighted to be working with the three sports bodies to raise awareness of the serious and damaging impact bullying can have on the lives of our children and young people. Through these workshops we aim to provide coaches and volunteers with the knowledge and skills to better enable them to play their part in making sport safer for all young people."
Paul Stephenson (NSPCC Child Protection in Sport Unit) reflected on the event:
"This event has enabled volunteers from across the three different sports to share experiences of coaching young people and increase their own knowledge of two of the major issues facing young people today – bullying and keeping safe on social media".
For further information about the Sport in the Community project and future events please contact Fionntán O'Dowd Ulster GAA on 028 3752 1900 or Fionntan.odowd.ulster@gaa.ie