Ulster GAA announces unique Healthcare partnership with 3fivetwo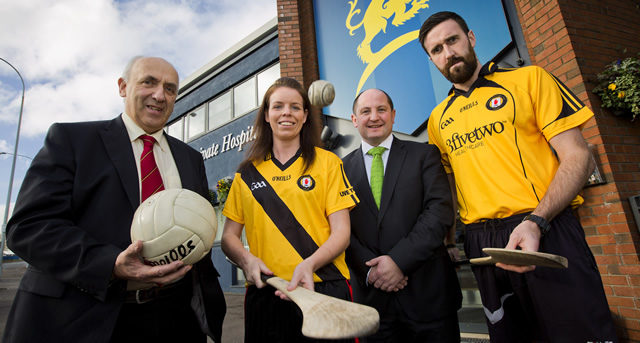 Ulster GAA today announced a historic healthcare partnership which will see top Northern Ireland private medical group 3fivetwo provide a range of health services for 90,000 players and 250,000 members across nine counties.
It's the first deal between a healthcare provider and a governing body like the GAA, which is the largest sports organisation in the province, and ensures that players and members are appropriately supported both on and off the pitch.
3fivetwo will offer private casualty, scans, physiotherapy, surgery, dental and physiotherapy services through Kingsbridge Private Hospital – just 1.5 miles from Casement Park in Belfast – attended by sports injury specialists.
"This is a very good agreement" said Danny Murphy, Ulster GAA CEO. "Our medical costs are significant and this partnership gives players the best possible healthcare package for spend with the added bonus of supporting a local business.
"On a practical basis, it means an injured player can click onwww.gaahealthhub.com for the options available to them or go straight to casualty at Kingsbridge for diagnosis by a top specialist, speedily followed up by whatever treatment or surgery is required.
"This is not an exclusive deal – Clubs and Counties can still go to whoever they wish- however, this is a competitive option with fixed costs for all procedures from a company which supports the GAA with an exclusive reduction on their services list, sponsorship for Ulster GAA's health and Players Academy programmes, and a set rate first aid and defibrillation courses."
Mark Regan, Development Director of 3fivetwo Group, said: "Having been the home of the National Sports Clinic in Ireland for the last 18 months, this deal offers us the opportunity to align the ethos of the GAA welfare with medical rehabilitation services.
"Our doctors at Kingsbridge are able to assess and diagnose a wide variety of sports related injuries and, in conjunction with our state-of-the-art diagnostics network, offer appropriate solutions onsite or at the home club, providing seamless integration of medical expertise from acute care through to surgery and rehabilitation.
"Should surgical intervention be required, we can also refer them to the relevant consultant at our own five star hospital here in Belfast, where they can be operated on very quickly in one of our fully equipped theatres and, if required, stay overnight in one of our 16 contemporary ensuite rooms with TV's and Wifi access.
"Alternatively, if it is a day procedure, they will be treated in the state of the art day procedure suite, which is furnished with the latest in C-arm x-ray technology allowing guided injection of analgesics (pain killers) into troublesome joints such as the knee shoulder or spine."
Regional trauma dental coverage through the Group's Dental Excellence arm is also available in Down, Derry, Armagh and Antrim, along with bespoke mouth guards which can be branded in county or club colours.
3fivetwo also offer CPR and Automated External Defibrillation (AED) and Sports Specific First Aid training on site or at a specialist training facility.
Players and members can go to www.gaahealthhub.com to find out exactly what offerings this new medical partnership with Ulster GAA and 3fivetwo Group has to offer.