Ulster Referees Awards 2014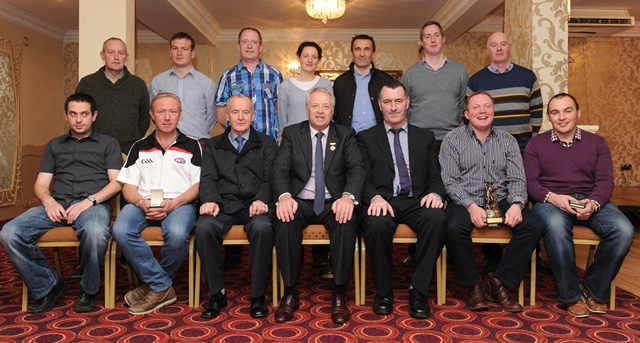 The 2014 Ulster Referees Awards night took place on Wednesday 3rd December in the Four Seasons Hotel, Monaghan.
Those who took charge of Ulster Finals in 2014 received their medals from Uachtaran Comhairle Uladh, Martin McAviney and Vice Chairperson, Michael Hasson. They paid tribute to the officials and thanked all referees for their time, commitment and involvement in the delivery of our games programme.
In 2014, Ulster GAA made a significant investment in our referees by providing a full set of specialised radio equipment for each of our nine counties. This can now be used by all our match officials at National League and all championship games, at no cost to the counties. It also means that the match officials will be using the same technology at all major games in Ulster.
This initiative in conjunction with the Health Checks for all our referees highlights the importance that Ulster GAA places on our match officials. We hope that the referees enjoy using this equipment as they continue to control our games with our full support.
A full list of the 2014 Final referees are as follows:
Ulster Senior Football Championship: Maurice Deegan (Laois)
Ulster Senior Hurling Championship: Fergal Horgan (Tiobrad Arann)
Club Senior Football Championship: Ciaran Branagan (An Dún)
Club Intermediate Football Championship: Barry Cassidy (Doire)
Club Junior Football Championship: Niall Cullen (Fear Manach)
Club Senior Football League: Francie Gallagher (Tír Eoghain)
Club Intermediate Football League: Anthony Campbell (Doire)
Club Senior Hurling Championship: Eamonn Hassan (Doire)
Club Intermediate Hurling Championship: James Clarke (An Cabhán)
Club Junior Hurling Championship: Liam McAuley (Aontroim)
Ulster Minor Hurling League Div 1: Garrett Duffy (Aontroim)
Ulster Minor Hurling League Div 2: JJ Lafferty (Dún na nGall)
Ulster Minor Football Championship: Ronan Barry (An Dún)
Ulster Minor Hurling Championship: Jason McAndrew (Muineachan)
Ulster Minor Hurling Shield: Noel Mullaney (Muineachán)
U21 Football Championship: Cathal O'Hagan (Tír Eoghain)
U21 Hurling Championship: Alan Nash (Doire)
Dr McKenna Cup: Martin McNally (Muineachán)
Ulster Minor Football League: Kieran Trainor (An Dún)
Ulster Minor Football Shield: Sean Laverty (Aontroim)
Referee of the Year: Maggie Farrelly (An Cabhán)