Ulster GAA to host its own Road Safety Oscars!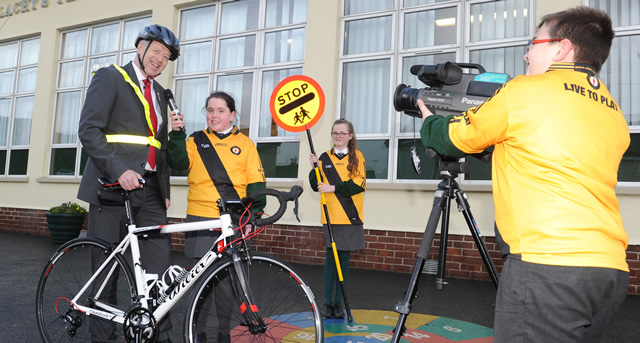 Ulster GAA has marked an exciting new development in their Road Safety programme with the announcement that the Live to Play Film Awards Competition is now live! The competition will see 'the pupil turn master' as school children across Ulster create their own educational video on road safety.
In addition to the fun learning experience that the filming will offer the pupils, every single child who gets involved will receive their own Live to Play bookmark. Three winning entries will be selected to attend the GAA's answer to the Oscars, the Live to Play Film Awards 2015!! The winning videos will be showcased at the Oscars and each school who has been successful will be awarded with a full Live to Play team kit in their own colours and featuring the trademark 'seatbelt' design.
The Live to Play Film Competition runs until the 13th February with schools invited to submit their entries to the online site www.ulster.gaa.ie/livetoplay/competition
Ulster GAA President Martin McAviney has urged schools to get involved, "The Live to Play Film Awards Competition offers a great opportunity for children to showcase their understanding of Road Safety in a fun and innovative way. I look forward to viewing entries and hosting our winners at the Ulster GAA 'Oscars' in March".
The Live to Play Film Awards is the latest in a series of novel initiatives Ulster GAA has undertaken to promote Road Safety.
Last year the Provincial Council launched it's 'kidszone', an interactive element of their website housing a number of educational road safety games for school pupils. In keeping with the online theme, Ulster GAA has also shared a series of social media messages featuring high profile GAA personalities from the world of football, hurling, camogie and handball. Added to this the work at level in offering education events, providing posters and signage and it is evident the emphasis that the leadership of the GAA in Ulster place on Road Safety.
Five years on from the inception of Live to Play and with significant progress made in raising awareness among members as to the importance of road safety, Ulster GAA is issuing a reminder to all it's members that this is a cause which requires constant attention from all road users.
Photo caption: Ulster GAA President Martin McAviney assisting pupils from St. Malachy's PS Armagh put the finishing touches to their road safety video.