Aogán Ó Fearghail takes over as GAA President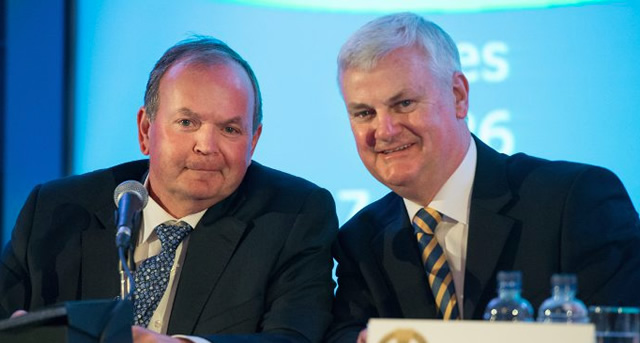 Drumgoon and Cavan native Aogán Ó Fearghail has this evening officially succeeded Liam Ó Néill as Uachtarán Chumann Lúthchleas Gael, taking on the role formally at the end of the GAA's Annual Congress at the Slieve Russell Hotel in Cavan on Saturday.
Ó Fearghail made history last year by becoming the first man from Cavan to be elected to the office of GAA President. He is the first man to be elected to the role from the province of Ulster since Monaghan native Seán McCague, who served from 2000-2003.
Ó Fearghail is a native of Maudabawn, a rural area close to the town of Cootehill in Co. Cavan. His club is Drumgoon Éire Óg, the first ever winners of the All-Ireland Junior Club Football Championship. He is the Principal of Dernakesh National School, of which he himself is a former pupil.
He founded the juvenile section at Drumgoon and trained U12 teams at the club for over 25 years. He served as Club Secretary throughout the 1980s, and was heavily involved in the development and establishment of the club's playing facilities at Boyle Park.
He served on the Cavan County Board for 12 years in various roles, including Irish Officer, Development Officer, Secretary for the Cavan Centenary Year Committee (1984) and as the county's representative to the Ulster Council.
He has been a member of the Ulster Council for 25 years (1989-2014), serving in all officer roles. He was PRO from 2001-2004, Treasurer from 2004-2007, Vice Chairman from 2007-2010 and President from 2010-2013.
At national level, he has served on the PR and Presentations Committee, the Competitions Control Committee (CCC), Coiste na Gaeilge, and the Strategy Implementation Committee.
He was Chairman of the Information Technology Committee and served on the GAA's Management Committee (Coiste Bainistí) from 2010-2013.
He is married to Frances and they have four children. His parents Aidan and Katie both live in Maudabawn and they will soon celebrate their 69th wedding anniversary.