GAA President's Awards 2015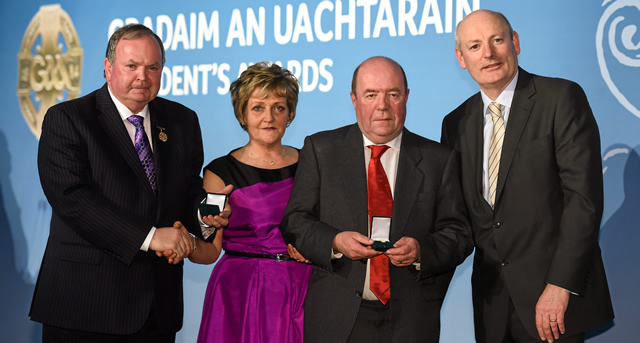 The GAA has confirmed the recipients for Gradaim an Uachtaráin 2015 which were presented at a special banquet in Croke Park on Friday 6th February.
The awards, organized with the support of club championship sponsors AIB, are staged annually by the GAA and provide the GAA President with an opportunity to acknowledge outstanding commitment and long service across the club and county network from people whose highly valued contribution is seldom recognised nationally.
This year a special humanitarian award was presented to acknowledge the excellent work Collie and Eithne Bell of the Kevin Bell Repatriation Trust (pictured).
The other awards are made on a province and code basis and there are also Life Time Merit and International Awards in addition to the presentation of the Annual Dermot Earley Family Award.
Uachtarán Chumann Lúthchleas Gael Liam Ó Néill, who will present the awards, said: "It gives me great pleasure to present these awards for the last time in the last few weeks of my three years as GAA President.
"This evening's event is a special one in our calendar. It is organised to acknowledge and laud the incalculable contribution our volunteer base makes to the wider association.
"Combined, our members are the driver behind Gaelic games and the GAA as a whole and while we can't acknowledge them all on an individual basis, the winners being honoured this evening epitomise everything they represent.
"The lifelong commitment of these people – and so many others – is impossible to quantify and difficult to overestimate.
"I would like to thank AIB and Denis O'Callaghan, Head of Branch Banking, for their ongoing support of these awards.
"Their involvement this evening is another tangible example of their support of our club activity and this relationship will be the fore in the coming weeks with our club championships on the national stage reaching fever pitch."
—
Gradaim an Uachtaráin 2015
MUNSTER- John O'Brien, Portlaw, Co. Waterford
Elected as chairman of St Pat's GAA Club at age 19 and since then, John has been a valued member of divisional and county boards as well as Bórd na nÓg. Refereed for some years in 1950s and 1960s, refereeing divisional and county finals at various grades. Has been selector of various underage county teams, as well as a club selector between 1970 and '76 when his club won five county titles. John recently won the inaugural Séamus O'Brien award in Co. Waterford for outstanding service as officer over many years.
MUNSTER-Eithne Neville, Croagh-Kilfinny, Co. Limerick
A member of a strong GAA family, Eithne's late father, Mick played and won All-Irelands with Limerick and Dublin. She has overseen Trojan work to promote Gaelic games since she started teaching in Limerick and represented the county with distinction on the camogie fields. Along with her family, Eithne donated Mick Neville Park to the Limerick County Board.
CONNACHT- Tom Gallen, St Joseph's Club, Co. Sligo.
One of the founding members of Calry-St Joseph's Tom was treasurer for many years. He is a former county referee and also served as an underage county selector in 1990s. He joined the Markievicz Park committee in 1993 and served as chairman for number of years, ensuring the pitch was always be in prime condition.
CONNACHT – Frank Morris, Corofin, Co. Galway
A renowned football coach who has been honoured nationally by the coaching fraternity previously, Frank has been a hugely influential figure in the Corofin club and has played a part in producing players that have kept that club to the fore on the Galway football scene. A teacher at St Enda's in Galway, he has passed his interest onto family members including son David who represented the club with distinction too.
ULSTER-Fergal McCormack, St Peter's Club, Warrenpoint
Fergal McCormack is a name synonymous with good practice in his professional career as an accountant and in his work in the GAA. He began his administrative career with Down Youth Board, before serving with distinction with both club and county. Has seen his club, Cumann Pheadair Naofa win the Ulster Intermediate championship. He chaired the organising committee when Co. Down hosted Congress in 2010 and was chosen by Ulster Council as a member for the Project Board of Casement Park.
ULSTER-Joseph Farrelly, Kingscourts Stars Club, Cavan.
A native of Kingscourt in Co. Cavan Joseph has played with them for many years and graduated as a primary teacher in 2013. Due to number of incidents involving suicide and depression, Kingscourt Stars decided to draft their own Mental Health Policy. As Joe had designed a similar policy for Carlow IT, he helped in the drafting of this for the club- the first GAA club in Ireland in association with Croke Park to draft such a policy.
LEINSTER-Har Ramsbottom, Park/Ratheniska GAA Club.
Synonymous with the Park/Ratheniska Club all his life has served in many roles, including chairman for four separate terms. His various roles have included – no nonsense defender, captain, coach, manager, motivator, administrator- he has been majorly involved in the development of the club grounds – the classic unsung hero which has helped put the GAA in the position it currently holds nationwide.
LEINSTER- Kevin Loughlin, St Patrick's Club, Stamullen.
Kevin Loughlin is a native of Co. Wicklow who came to live in County Meath in 1985. Along with his wife Claire and children he has been immersed in local St Patrick's assuming a variety of positions including Insurance Officer and Safety Officer before progressing all the way to becoming Club Chairman in 2003 – a role which he held for four years until 2006. A driving force behind the hugely impressive redevelopment of club facilities, Kevin established and chaired the club's Development during a remarkable period of change and he holds this role to this day.
CAMOGIE- Karina Jones, Ballybroughan, Tulsk, Co Roscommon
A native of the Kiltoom parish, Karina played camogie with St Brigids' and then Four Roads, despite moving to Tulsk in the 1990s. She would go onto establish a camogie club in Tulsk eight years ago. She has trained under 12, 14 and 16 teams and this year will train the first minor team. In her playing days, she won two Ashbourne Cups and captained Roscommon in the 1995 All-Ireland Junior final, where they lost to Limerick.
HANDBALL-Tim Healy, Liscarroll Handball Club
After Tim ended his hurling days with Liscarroll and Golden Vale Foods, he took up handball and has served the game with distinction for a quarter of a century. Instrumental in converting the Liscarroll alley from 60 x30 to 40×20. He has been chairman of Liscarroll Club, Cork County Board, and Munster Council from 1998 to 2000.
LADIES FOOTBALL- Mary Hernon, Milltown, Co Galway.
Mary has played an integral role in the development of the sport in Co Galway in recent years, serving as Asst. Secretary and Secretary – with at least one All-Ireland won in u14, u16 or minor each year of her tenure. A founder member of Milltown Ladies Football club- they have won All-Ireland 7s title as well as county championships.
ROUNDERS- Áine McGrath
(in recognition of Cumann na mBunscol Rounders Initiative in Sligo)
Cumann na mBunscoil Shligigh introduced Rounders into their programme of games opportunities in 2011. Áine McGrath in her position of Development Officer for Cumann na mBunscol took this project under her wing. In that short period of time the game has developed and flourished throughout the county, with 30 schools competing in 2014.
INTERNATIONAL AWARD- Paul Mulcaire
A native of Kilrush in Co Clare, Paul emigrated to Buffalo in 1986. There had been Gaelic games played in Buffalo but these had dissipated. By mid 1990s, he felt it was opportune to form a GAA club in Western New York, and so Buffalo Na Fianna came into being, being renamed as Buffalo Fenians some years later. Elected as Youth Officer of the club in 2009 he immediately energised the youth program, which has led to spectacular results, entering a team for the first time in the CYC in Boston, which has grown to six teams in last year's championships. He has and continues to serve in a myriad of officerships both local and nationwide.
THIRD LEVEL- Michael Mallie, Dundalk IT & Silverbridge GAA
A long serving member of Silverbridge, Michael was one of the driving forces in setting up the GAA club in Dundalk IT in the early 1970s. He has been a leading figure in the club while working as technician in the college and the club hosted the Sigerson Cup in 2005. Michael was elected as National Chairman of Comhairle Ardoideachais Náisiúnta in 2010 having served in a variety of officer roles previously.
HUMANITARIAN- Collie & Eithne Bell, Kevin Bell Repatriation Trust
The Kevin Bell Repatriation Trust aims to alleviate the financial hardship of bereaved families repatriating their loved ones who have died in tragic circumstances abroad back to Ireland. Collie & Eithne Bell have turned their personal tragedy of losing their son Kevin in such circumstances into a positive experience for many Irish families when most needed. It provides support and ensures that the pain and suffering may be eased by providing a facility whereby families can be reunited with their loved ones as soon as possible. Collie has served his club, Newry John Mitchels as a player and mentor and as a teacher with Cumann na mBunscol. Collie & Eithne are people who live out the spirit and ethos of CLG in their lives, good work, and service.
LIFETIME RECOGNITION- Tadhg Meehan, ex Provincial Sec of Britain.
Tadhg swopped the metropolis of Tycooley for the bright lights of London in 1961, and after a short return to native shores, went back to London in 1963, where he has been since. After playing for some years with Geraldines Club in London, he eventually settled in North West of Britain and soon became involved with Lancashire Board. He served as Treasurer of Provincial Council from 1984 to 1999, when he took over as Secretary, a position he retained until 2012. He has also served as Central Council delegate for four years. He has had many special days through his involvement with the GAA none more so than 2004 when his beloved Caltra – including his nephews – claimed all All-Ireland club
honours.
THE DERMOT EARLEY FAMILY AWARD – The O'Connor Family, Walsh Island, Offaly
The O'Connor and Connor Families come from the parish of Walsh Island in county Offaly close to the county boundaries of both Kildare and Laois. The five footballers from the two families who won All-Ireland medals from the parish and played with such distinction for Offaly from 1970 to the late 1980s are actually double first cousins.
Tommy O'Connor, the father of Tomas and the late Liam who won All-Ireland medals in 1982, was married to Nanette Bryan and her sister Beesie Bryan married Jim Connor and are the parents of All-Ireland winners Murt in 1971 and Richie and Matt in 1982.
The Bryan connection is even stronger in the family as Willie Bryan who captained Offaly to their first All-Ireland victory in 1971 is also a first cousin of the Connors and O'Connors.
Walsh Island GAA club has had two distinct periods of success in Offaly GAA – the first was from 1933 to 1943 when six Offaly senior titles were won and Tommy O'Connor was a leading player and the more recent period was from 1978 when they went on to win six successive Offaly titles and two successive Leinster club championships.
Three other brothers of Murt, Richie and Matt – Willie, Seamus and Sean – also played in Offaly finals at the same time as did their first cousin Pat Bryan, meaning that at that time no less than NINE first cousins lined out for the famous club.
Tomás, Richie, Liam and Matt all won All-Star awards while Richie had the honour of collecting the Sam Maguire cup as captain after the never to be forgotten 1982 All-Ireland victory over Kerry who were seeking Five All-Irelands in a row.
Matt Connor was leading scorer in Ireland for five successive years and scored 2-9 against Kerry in the 1980 All-Ireland semi-final as well as collecting Goal of the Year. He collected three All-Star awards before his career was ended in an accident at the age of 25.
The family football traditions continue to this day as sons of Richie and the Liam now play with Walsh Island while Tomás O'Connor's son, also Tomás, is a member of the Kildare senior team.