O'Neills Ulster GAA Coaching & Games Development Conference 2015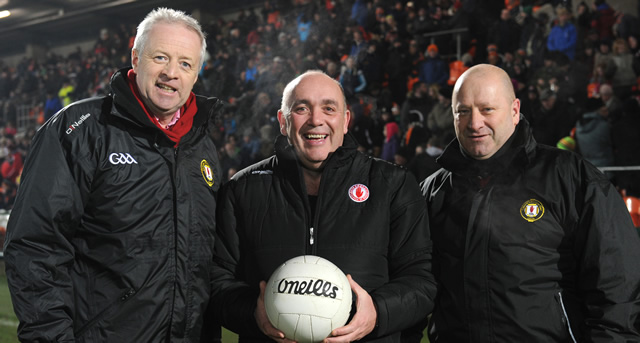 It is that time of year again when the club and county scene is almost wrapped up for winter and coaches begin to look at the programme of coach education courses that are available to them.
Everyone is trying to get that little edge over their competitors and coaches are hungry for information and coaching tips to stay ahead of their opponents. The O'Neills Ulster GAA Coaching Conference is always a focal point for the best coaches in Ulster and indeed coaches throughout Ireland and Britain.
The theme for 2015 is 'Building Blocks to Improve Performance' and will have a resonance with those coaches working within schools, clubs, academies and county squads throughout the province.
The morning and early afternoon sessions will include nine workshops which will be repeated to enable coaches to attend a minimum of four quality sessions throughout the day.
Our guest speakers this year are Ireland International Rules Manager, Paul Earley and former Armagh star and Crossmaglen player and team manager, Tony McEntee. Both speakers will share their personal experiences as they progressed along the pathway from successful payers to successful coaches.
Conference Workshops will include:
• Engaging People to Learn & Perform Skill – Donnie Buckley, former Kerry and Mayo Team Coach
• Sports Nutrition (It starts with a KISS) – Dr. Sharon Madigan, Head of Nutrition, Irish Institute of Sport.
• Tactical Play in Hurling – Denise Martin, Performance Analyst with Enhance Sports Analysis Services
• Building Structures to Develop Hurling – Fergie O'Loughlin (Clare), National Hurling Mentor.
• Games for children to build confidence and competence in kicking – Ben McGuckin & Aiden McLaughlin (Ulster Key Stage One Schools Coaches)
• Analysis of Kicking Technique – Terence McWilliams (Ulster GAA) & John Morrison (Tutor Trainer and former Inter-County Coach)
• Coaches Providing Feedback to Players and Teams – Johnny Bradley (Sports Institute NI) & Kevin McGuigan (Ulster GAA)
• Injury Prevention & Player Welfare – Marty Loughran (Sports Institute NI) & Ryan Mellon (Ulster GAA)
• Mental Preparation for the Training Environment – Ciaran Kearney PhD researcher at Ulster University (Institute for Research in Social Sciences)
Coaches are advised to book their places early as we are usually fully booked out well in advance of the conference.
Delegate Costs are £25/€30 and include lunch and a delegate pack.
To book your place visit the Ulster GAA website then follow the link to the online booking site at www.ulster.gaa.ie/coachingconference2015
—
Photo caption: Ulster GAA President Martin McAviney with Conference sponsor Kieran Kennedy (O'Neills International Sportswear) and Jimmy Darragh, Ulster GAA Hurling Development Manager.