Ulster GAA host first ever Live to Play Road Safety 'Oscars'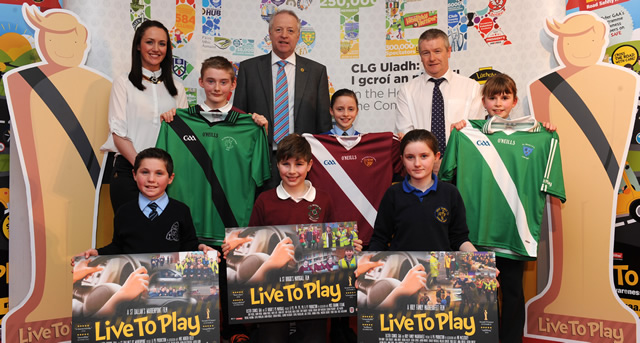 Ulster GAA today hosted its first ever 'Live to Play Oscars' in the iconic Tyrone GAA Centre. Ulster GAA President Martin McAviney presented awards to winning and highly commended schools who had emerged from entries to the Road Safety video competition held by the Provincial Council.
Madden Songbird, Catherine Grimley-Hughes, fresh from her stint on The Voice of Ireland, hosted the awards ceremony which showcased the successful entries from primary schools across Ulster.
Of the many entries submitted to the competition, six schools were shortlisted to attend today's award event. The Tyrone venue was transformed as the glitz of Holywood was played out in the Live to Play Oscars imagery.
St Macartan's Clogher, St Mary's Cabragh and St. Columba's Straw emerged as winners on the day and receive customised Live to Play Playing kits in their school colours. Each shortlisted school received their own 'movie' billboard, personalised to their individual film entry while all participating pupils to the competition will receive a Live to Play Bookmark, thereby ensuring the learning and messages of the programme are visible daily in the classroom.
Ulster GAA President Martin McAviney reflected on the impact this programme had made in schools. Speaking at the Oscars he said, "I am delighted to be present here today to see first-hand the enthusiasm which this programme has generated among young people on the subject of Road Safety. In Ulster GAA we are very proud of the impact Live to Play has made in addressing a very difficult issue. I believe that through innovative work, such as is on show today, we can continue to make an impression on our young people".
Photo caption: Ulster GAA President Martin McAviney, DOE's Anthony Crozier and Catherine Grimley together with the winning highly commended schools at the Live to Play Oscars.