Roe Valley crowned 2015 Cúchulainn Cup Champions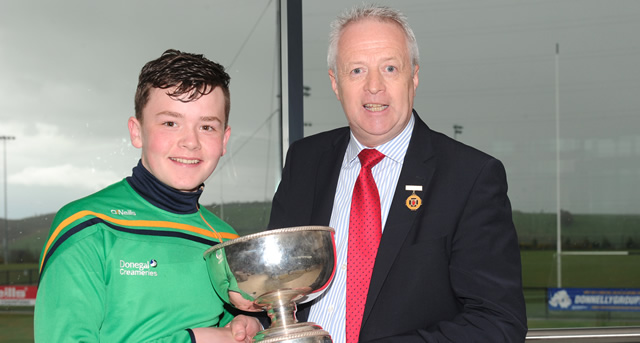 Roe Valley Cúchulainns have been crowned Ulster GAA 2015 Cúchulainn Cup Champions today at Ulster's flagship cross community tournament, held in Garvaghey in Tyrone.
Presenting the Cup, Ulster GAA President Martin McAviney said, "The Cúchulainn Initiative is Ulster GAA's flagship cross community, cross border tournament. This initiative offers young men across schools in Ulster the opportunity to receive top class training in both hurling and Gaelic Football in preparation for today's tournament. Schools from across the controlled and maintained sector participate with a focus on building relations and promoting Gaelic Games to those from non-traditional backgrounds.
"I am delighted to be in Garvaghey today, to meet the teams and their teachers and to see at firsthand the positive impact the Cúchulainn Cup brings to four school communities across Enniskillen, Belfast, Cavan and Roe Valley.
"I commend all those who have participated and I encourage the lads and their families to continue their interest in Gaelic Games by getting involved in their local clubs."
The Cúchulainn Cup is sponsored by Unite Against Hate and founders Jeremy Adams and Eva Grosman were in attendance at the tournament today. Jeremy Adams said, "Unite Against Hate aims to stamp out all types of hate crime, and we are delighted to be associated with Ulster GAA's Cúchulainn Cup. We believe this initiative promotes good relations and uses sport to break down barriers. We commend all those who have participated in this year's programme."
The Ulster GAA Cúchulainn Cup is a programme specifically focused on extending the hand of friendship to schools, communities, and families who would not normally associate with the GAA. This is achieved by inviting schools from a town; usually two controlled and two maintained, to come together to form an under-16 Cúchulainn Team. The programme focusses on inviting young people who have very little involvement in the GAA to participate.
In its eighth year, this year the focus is on re-engaging with some of the schools who were the first to take part all those years ago. This year the number of teams has been restricted to four, to allow greater engagement with participants: Roe Valley Cúchulainns, Belfast Cúchulainns, Enniskillen Cúchulainns, and Cavan Cúchulainns.
The fourteen schools involved have received 6 weeks of coaching in Hurling and Gaelic football delivered by Ulster GAA coaches in preparation for the competition.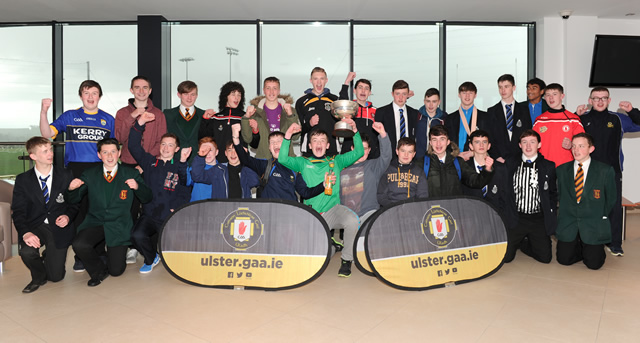 Photo captions: Ulster GAA President Martin McAviney presents the Cúchulainn Cup to Conor Foster, captain of Roe Valley Cúchulainns, and the 2015 Ulster GAA Cúchulainn Cup Champions pictured at the Tyrone GAA Centre at Garvaghey.
[youtube]http://www.youtube.com/watch?v=LtXmZ2sXGyI[/youtube]