Sporting organisations tackle inequality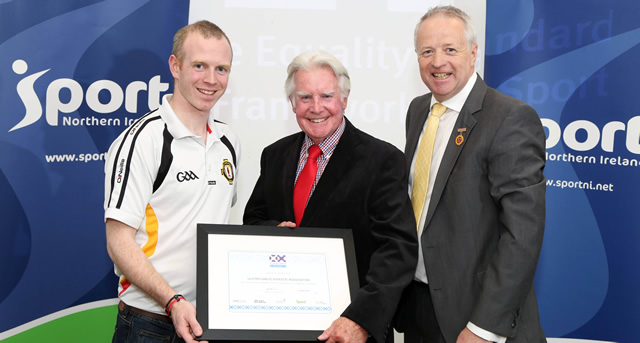 Eight sporting organisations that are committed to tackling inequality received awards from Sport Northern Ireland at the House of Sport on Wednesday 22nd April.
Having previously achieved the Foundation Level in 2014, Ulster GAA are one of only two sporting organisations in the Province to have been awarded the preliminary level of The Equality Standard: A Framework for Sport in 2015.
The Standard, which was launched by all UK sports Councils and UK Sport in November 2004, is a UK-wide framework which assists sports organisations in widening access and reducing inequalities in sport and physical activity from under represented individuals, groups and communities.
Reflecting on the achievement of the eight sporting organisations, Andrew Sloan, Sport NI Director of Sports Management Services, commented:
"Sport Northern Ireland is committed to ensuring that sport is open to and enjoyed by all sections of our community. Through the Equality Standard, we are able to support and acknowledge the work of local sporting organisations promoting equality within their internal structures and processes.
"The actions and initiatives which they have developed and implemented reflect a collective determination to encourage participation in sport by everyone, and Sport NI is delighted to present awards to them in recognition of their efforts."
Speaking after collecting the award Ulster GAA President Martin McAviney commented:
"Ulster GAA are committed to leading change, with equality being at the heart of all of what we do and are delighted to be presented with the Preliminary Level of Equality Standard Award."
"And whilst achieving the Preliminary Level highlights how far we've come in our work around making Ulster GAA accessible to all, and our continued commitment to addressing equality issues, we'll be looking to maintain and improve upon our Preliminary Level to ensure Ulster GAA remains ahead of the game."
For further information please visit the Equality in Sport website or contact Fionntán O'Dowd on 028 3751 7180 or fionntan.odowd.ulster@gaa.ie
Photo caption: Sport Northern Ireland Board Member, Danny O'Connor, presents the Preliminary Level Award of the Equality Standard to Martin McAviney (Ulster GAA President) and Fionntán O'Dowd (Social Inclusion Officer).