St. Dallan's PS Health & Wellbeing Day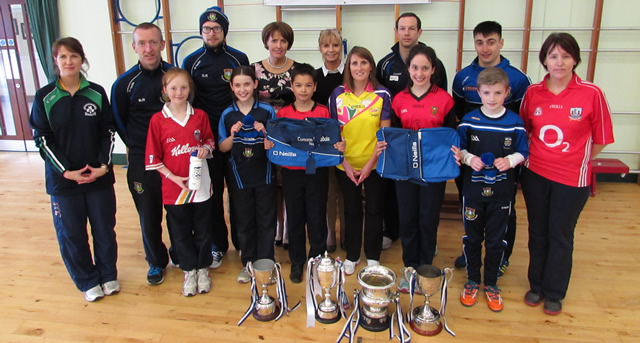 St. Dallan's Primary School, Warrenpoint combined with Cumann Pheadair Naofa CLG, as part of the Club / School Link, hosted their annual GAA Health & Wellbeing Day for Primary 7 pupils on Friday 27 March 2015.
The fun packed day got off to a great start with interactive seminars on health and sport in the GAA. Fionntan O'Dowd Ulster GAA Social Inclusion Officer provided the pupils with an insight into road safety awareness based on St Dallan's P6 pupils success in the recent Live to Play Oscars hosted by Ulster GAA Council. Primary 7 teachers, Mrs Treanor and Mrs Morgan engaged the pupils in an Ulster GAA Council Healthy Lifestyle Seminar with supporting workbooks.
Much preparation had gone into the organisation of the GAA Day with Primary 7 pupils working on a 6 week GAA project linked to all aspects of the statutory curriculum. The introductory stages of the project were exhibited in the school assembly hall. An Art Exhibition based on the theme Live to Play was also exhibited in the assembly hall and in the coming weeks, the Live to Play Exhibition will be transferred to Walsh's Pharmacy.
The school canteen prepared a healthy lunch for the pupils and appreciation was expressed to the head of canteen services Mrs Johnston and the canteen staff for the delicious lunch.
Coaching was the focus of the afternoon activities with pupils enjoying Gaelic Football, Camogie, Hurling, Ladies Gaelic Football, Rounders and Handball delivered by Down GAA coaches including Benny Coulter, Mark Poland, and Liam Hardy assisted by CPN Football Chairman Liam Howlett, CPN/Down Footballer Ross McGarry, Darren Rice and Conan O'Neill.
A new dimension was added to the GAA Day with the final of the Handball Tournament taking place in advance of the coaching. The winners of the Handball Tournament were presented with their prizes at the special assembly to celebrate the GAA Health & Wellbeing Day.
Mrs Farrell welcomed and expressed appreciation to Ulster GAA Council, Down GAA County Board and Cumann Pheadair Naofa Warrenpoint for their input to the P7 GAA Health and Wellbeing Day which is one of the highlights of the school year. During the assembly CPN and Down Footballer Ross McGarry addressed the pupils outlining the benefits of sport for a healthy lifestyle. He encouraged the enthusiastic P7's to engage in sport, to enjoy participation and being part of a team.
Mrs Anne McCormack CPN Club/School Liaison Officer thanked Mrs Farrell, and the St. Dallan's staff for their commitment and enthusiasm in embedding the GAA as a holistic theme through all five GAA codes, health and wellbeing and community interaction in the school's curriculum.