Gaelic Football Stars confirmed for GAA Open Charity Game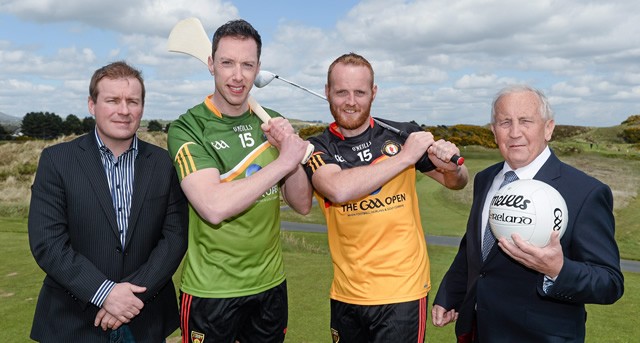 A host of former Gaelic Football stars will line out for a special charity game as part of the Dubai Duty Free Irish Open Golf events next week in Newcastle. The game will take place at St Patrick's Park in the Co Down town on Monday, 25 May 2010 at 7.00pm.
Today, the GAA announced the members of the Ulster and Rest of Ireland teams. They include 17 Allstars, with players from 20 counties. The Ulster team will include seven Allstars (Benny Coulter, Brendan McVeigh, Stevie McDonnell, Paddy Bradley, Enda Muldoon, Barry Owens, Marty McGrath and Kevin Cassidy), All-Ireland winner Kevin Hughes (Tyrone) and former Young Player of the Year Aaron Kernan (Armagh).
The Rest of Ireland managers will look to include former All-Ireland winners Padraic Joyce (Gaway) and dual star Brendan Cummins (Tipperary) and former Allstars Barry Cahill, Dermot Earley, Eamonn O'Hara, James Nallen, Ciarán McDonald, Declan Browne, Mattie Forde and Anthony Rainbow.
Down legends Sean O'Neill and James McCartan jnr will take charge of the Ulster team against a Rest of Ireland Select managed by Sean Boylan (Meath) and John O'Mahony (Galway/Mayo).
The Northern Ireland Cancer Fund for Children, which has the support of the Rory McIlroy Foundation, will be the designated charity for the game.
Tickets priced at £10 for adults and £5 for children can be purchased online at tickets.ie
Ulster:
Benny Coulter, Down
Brendan McVeigh, Down
Aaron Kernan, Armagh
Gerard O'Kane, Derry
Barry Owens, Fermanagh
John Paul Mone, Monaghan
Dermot McArdle, Monaghan
Damien Freeman, Monaghan
Kevin Cassidy, Donegal
Liam Doyle, Down
Ambrose Rogers, Down
Kalum King, Down
Martin McGrath, Fermanagh
Kevin Hughes, Tyrone
Stevie McDonnell, Armagh
Brian Mallon, Armagh
Billy Joe Padden, Armagh
Paddy Bradley, Derry
Enda Muldoon, Derry
Conleth Gilligan, Derry
Paddy Cunningham, Antrim
Kevin Brady, Antrim
Rest of Ireland:
Barry Cahill, Dublin
Enda Murphy, Kildare
Eamonn O'Hara, Sligo
Leighton Glynn, Wicklow
Anthony Rainbow, Kildare
Anthony Moyles, Meath
Shane Lennon, Louth
Mattie Forde, Wexford
Ciarán McDonald, Mayo
Colin Regan, Leitrim
Dermot Earley, Kildare
Declan Browne, Tipperary
Padraic Joyce, Galway
James Nallen, Mayo
Brendan Cummins, Tipperary
Dessie Dolan, Westmeath