Active Clubs Co-ordinators educational visit to London
Active Clubs is a new multi-year investment programme developed and administered by Sport Northern Ireland, with funding from the National Lottery Fund.
The aim of the Active Clubs Programme is to 'support and enable accessible and sustainable participation opportunities through sports clubs'.
The investment programme employs a network of Active Clubs Coordinators to work with identified sports clubs in order to assist them with developing new and innovative interventions aimed at increasing their club membership. Post holders are responsible for creating the potential for the realisation of a range of opportunities for training, learning, education and capacity-building for coaches and volunteers.
Ulster GAA were successful in obtaining two co-ordinators in Paul Callaghan and Shane McCann. Their main objectives are to:
– Increase club membership in the most deprived areas of NI.
– Increase club membership among women and girls.
– Increase club membership among the 14-25 years age group.
– Create, support and coordinate a range of coaching and volunteer opportunities.
As part of the initial budget for the posts, finance was provided for the two post holders to avail of training and Continuous Professional Development opportunities. Two of their main target groups (for increasing membership) were women and girls and those living in deprived areas. They carried out research to find suitable programmes that they could visit and gain best practice experiences. It was decided that two projects based in the London area were suitable for the staff members to gain further knowledge in this sphere.
Project 500 is a campaign to address the imbalance in the number of male to female coaches, creating a more diverse workforce to drive the growth of female participation in sport. The project will see a combined 500 female coaches recruited, developed and deployed across seven South East counties of England between April 2013 and March 2015.
StreetGames is a sports charity that changes lives in the community by supporting a network of projects which give sports and volunteer opportunities to young people in disadvantaged communities across the UK. Doorstep Sport is StreetGames delivery method. This brings sport close to the home in disadvantaged areas .The aim of the project is to be sustainable and become part of the fabric of the community. This leads to stronger and safer communities, increased social action, volunteering and improved health and wellbeing.
A meeting was organised with James Gregory, Development Manager for StreetGames in London and South East. Staff found the following information may be of benefit to them:
– Someone from a deprived area is twice as unlikely to play sport.
– Social media is key in connecting with young people.
– That youths like to participate in a non-competitive/fun environment
– If someone attends four sessions they will usually become a long term member.
One of the ways that Streetgames recruit new members is to set up in a housing estate or green area. They put up goalposts with some speakers playing music and start chatting to the local youths, inviting them to play football for a while. Subsequently an arrangement is made to be back at the same time next week for something similar. Eventually this gets 'buy in' in from the local youth and a more structured format takes place.
A visit to a project was also arranged with Sean Burke, a co-ordinator in West London. There had been anti-social issues involving gangs of Somalian Youths in the evening time. Therefore Streetgames, after meeting locals in the housing estates, provided regular indoor football games for them at their local secondary school over the weekends and this initiative has seen anti-social behaviour decline in the area since the programme commenced.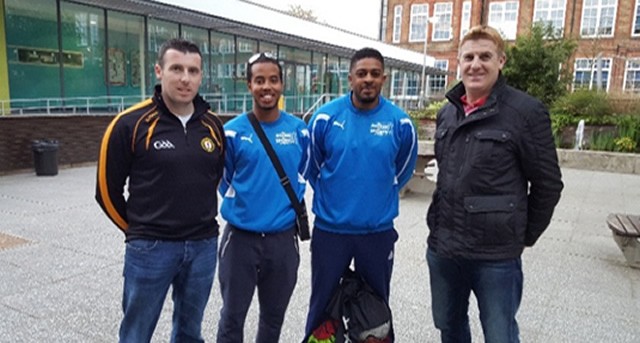 Through contact with Louisa Arnold, Coaching Network officer for Kent Sport, it was arranged for Paul and Shane to attend the Project 500 regional staff meeting in Farnborough and for the Project 500 staff to give a presentation about the programme to see how they could use or adapt some of the methods in attracting new female coaches for Ulster GAA.
Some of the observations were as follows:
– Social media is very relevant. They have developed a #womenswednesday online networking forum that has proved very valuable.
– In return for delivering free coaching awards, the coaches had to sign up to becoming members for 3 months or 12 hours coaching/assisting.
– In the majority of new coaches, confidence increased substantially.
– The staff follow a 5 C's rule – Capacity, Communication, Collaboration, Creating and Check points.
– Too much structure puts them off. Females like Fun, Fitness, Friends.
Paul and Shane then visited Windsor to meet a Project 500 coach and observe one of her sessions. Mekaya Gittens had played Netball when she was at school and wanted her daughter to play but found out that there was no Netball club in her area. She found out about Project 500 and through them, got her qualifications to become a coach. She then recruited other female coaches/mothers. They now have a thriving club based at their local school with teams at various age groups.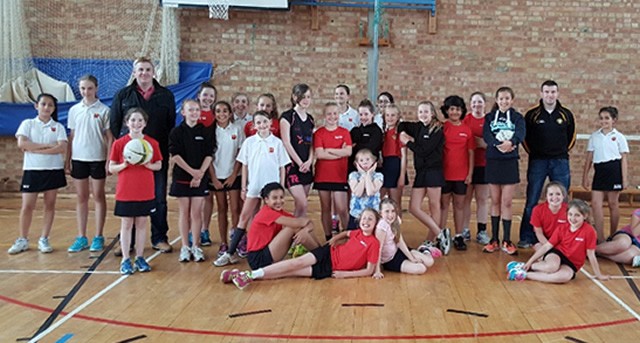 Overall the visit was extremely worthwhile in giving an insight into similar projects that will be delivered for Ulster GAA over the coming years. Meeting with professionals to discuss the best practice procedures and also areas that they could improve on, plus the value of observing the different activities on the ground will give Ulster staff valuable information and knowledge moving forward, especially regarding the Active Clubs programme.