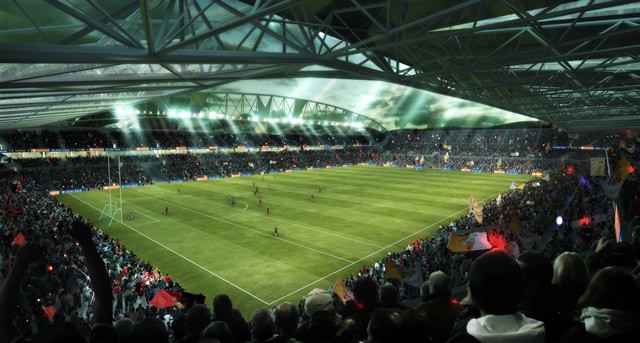 The GAA and its partners have outlined its continuous engagement with the project Safety Technical Group throughout all steps of the planning process to deliver a state of the art provincial stadium at Casement Park for use by Antrim County GAA and Ulster GAA.
Those giving evidence to the CAL committee included Danny Murphy, Chief Executive and Secretary, Ulster Council GAA, Tom Daly, Chair of the Casement Park Provincial Project, Paraic Duffy, GAA Director General, Oran McCloskey, Project Director, HBJV and project designer Mike Trice, Senior Principal Architect at Populous, a globally renowned company that specialises in developing sporting stadiums.
During the session the GAA expanded upon its impeccable health and safety record citing its management of a large number of major Provincial and County Stadiums built to the highest specifications and conforming to all of the relevant health and safety legislation across Ireland and Britain. The Committee were briefed on the GAA hosting over 1,000,000 people at its stadiums throughout the 2014 GAA championship with fixtures drawing crowds of up to 82,300 for major games.
Commenting after the Committee session, Danny Murphy CEO and Secretary Ulster GAA said:
"The GAA has reiterated that at all stages of the Casement Park Provincial Project the development had been scrutinised throughout the design process by the STG who signed off in principle, prior to the submission of the planning application. The ongoing work to date on the safety issues and exiting made progress and this is evident in a correspondence from the Chair of the STG dated 23rd August 2013 which states that as part of the developmental process, "there appears to be a consensus that the latest proposals address the exiting concerns". At all Stage Boundaries, from Outline Business Case to the appointment of the contractor the safety of the design was paramount and whilst some contingency planning were discussed, no red flag issues were ever raised with the GAA.
"The GAA examines all industry recognised threats and develops contingency plans to allow safe evacuation of the spectators in 18 designated grounds within Ulster. The SGSA Safety Management guidance is a vital tool which recognises partial and phased evacuation dependant on the threat. We look forward to re-engaging with the STG to develop these plans with their full input as we move forward."
Tom Daly Chairman of the Casement Park Project board commented:
"In the near future the GAA will announce its programme for a fresh planning application for Antrim and Ulster's new stadium at Casement Park. At that time we will also outline our plans for local engagement and it is our intention again to work constructively and pro-actively with all relevant stakeholders."