Donnelly Group supply Ulster GAA's first mobile ticket van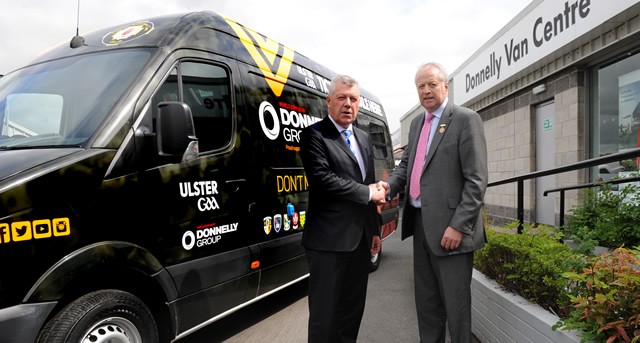 The Donnelly Group is partnering with the Ulster GAA to supply their first ever mobile ticket van.
As a long-time supporter of Ulster GAA, through the continued sponsorship of Tyrone GAA, Donnelly Group has secured a five year partnership with the Ulster GAA.
The van will be used to sell game tickets and offer online collection outside the gates of GAA matches, and in the lead up to big games, will be present at press nights at the county clubs and town centres.
Ulster GAA President Martin McAviney commented:
"Ulster GAA are delighted to announce a partnership with Donnelly Group. Terence Donnelly and his team are well known throughout the GAA membership in Ulster as a leading company that puts both its customers and the local community first.
"Donnelly Group have had a longstanding relationship with the GAA and we are delighted to have put in place a new partnership that will see us working together over the next five years".
Terence Donnelly, Group Executive Chairman of the Donnelly Group said:
"The Donnelly Group shares a lasting history with Ulster GAA, and has been sponsoring Tyrone GAA in various ways for the last decade, most recently in partnership with one of our 18 manufacturers, Vauxhall.
"This extension of support to Ulster GAA was a natural progression, and one we are delighted to offer assistance with.
"Teamwork is a strong focus in the Donnelly Group, and what makes us successful. We recognise the importance of teamwork in sport within the community and how these matches encourage young players to achieve their goals."
Through Taxi & Bus Conversions (TBC), Northern Ireland's leading specialist vehicle converters for taxis, wheelchair accessible vehicles, minibuses and vans, the Donnelly Group can offer bespoke solutions for a range of manufacturers.
Terence continued:
"It was with great pleasure that we took on the task of customising the Ulster GAA ticket van with the help of TBC. As Northern Ireland's leading specialist of vehicle conversions, TBC have provided a bespoke vehicle conversion for the new mobile ticket van.
"Customer satisfaction is our number one goal, and our success is based not only on an in-depth understanding of the vehicle conversion business, but an understanding of our clients' needs, ensuring the vehicle is modified right for them."
Photo caption: Terence Donnelly, Group Executive Chairman of the Donnelly Group pictured with Ulster GAA President Martin McAviney at the handover of the new Ulster GAA mobile ticket van.