Healthy Clubs – Healthy Communities Volunteering Forum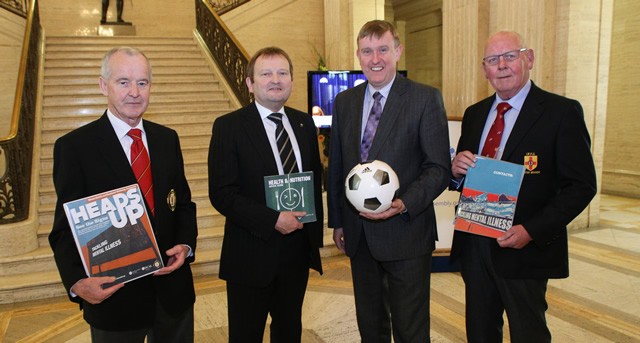 Ulster GAA, the Irish Football Association and IRFU Ulster Branch are pleased to host a health and wellbeing themed Volunteer Forum on Monday 15th June 2015, at the Ramada Hotel, Shawsbridge, Belfast, from 6.30pm – 9.30pm. The event is aimed at Volunteers and Officers within sports clubs who wish to see how they can maximise their sports clubs to enhance the health and wellbeing of its members and wider communities.
Workshops will focus on physical health and mental health. Dr Alan Rankin (Ulster Rugby) will remind us of why physical activity is good for our health, while also highlighting the responsibilities of sports clubs in protecting health. Malone RFC will share their experience of developing community gym facilities at their club grounds and the impact this has had on welcoming the local community into the club environment.
Aware Defeat Depression, having worked with sports clubs in promoting Mental Health First Aid training in recent times, will explain what is and what is not expected of clubs in terms of promoting positive mental health. St Marys GAA, Rasharkin will speak about their involvement in raising awareness of mental health issues and the steps the club have taken to promote mental health in their club environment.
Richard Clarke, an active coach with Dergview United FC, will give his personal testimony of the power of sport in raising awareness of and supporting people through ill-health. Delegates will have an opportunity to ask questions of the speakers during a wrap-up Q & A panel discussion.
Speaking at the event launch, Social Development Minister, Meryvn Storey MLA, said: "Volunteering within sport plays such an important part in society in Northern Ireland. The wider benefits for volunteering are evident, including social inclusion and health and well-being. My Department recently provided funding of £175,000 to support this innovative project, 'Sport in the Community – a Home for Lifelong Volunteering'. This funding will build on the joint partnership between IFA, UGAA and IRFU and supports the DSD Volunteering Strategy for Northern Ireland."
For information or to register for FREE contact Maura McMenamin (maura.kelly.ulster@gaa.ie, 07787 797578).
Photo Caption: DSD Minister Mervyn Storey MLA launches the Club Volunteer Forum with representatives from UGAA, Michael Hasson; IFA, David Martin; and Ulster Rugby, Bobby Stewart.
Download:
– Healthy Clubs – Healthy Communities Volunteering Forum Agenda