Healthy Clubs – Healthy Communities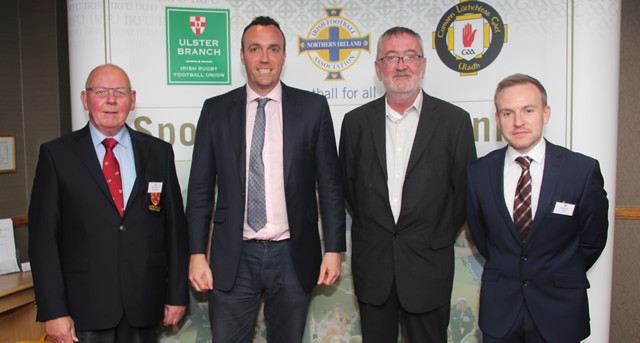 Ulster GAA, the Irish Football Association and IRFU Ulster Branch hosted a very informative volunteer forum on Monday 15th June entitled 'Healthy Clubs – Healthy Communities'. The event focused on ways in which sports clubs can positively impact on the health and well-being of their members and wider community.
Madeline Heaney, Head of Health and Social Well-being (North) with the Public Health Agency (PHA) set the scene for the evening by emphasising the important function sports clubs have in affording people the opportunity to become more healthy in their own community.
"The PHA recognises that sport and volunteering within sporting bodies has an important role to play in the health and wellbeing of our communities. We work alongside a number of sporting bodies to promote healthier lifestyles through physical activity and by promoting positive mental health and emotional wellbeing, good nutrition, and drug and alcohol awareness. We look forward to continuing this important work."
Aspects of physical health and mental health were detailed by experts in the field and supported with practical examples from sports clubs. Patrick Anderson from Aware Defeat Depression reassured clubs as to their role in promoting positive mental health; highlighting small but significant steps clubs can take in order to make their club an environment in which people feel it's OK to talk about their mental health. St Marys GAC Rasharkin relayed their involvement with SOAR through their involvement in the GAA Healthy Club programme.
Dr Alan Rankin (Ulster Rugby) gave a valuable insight into the protective factors of being physically active on health, but also on the potential health risks associated with playing sport. Malone RFC provided practical examples of how their outdoor gym has encouraged the wider community to become more physically active.
Richard Clarke, Dergview FC, told his story of living with, and over-coming serious illness, and the role sport played in his recovery. Now a coach with Dergview FC, Richard gave his real-life testimony of how his club acts as a sound setting for reminding players and parents about the need to take care of their health and well-being.
The event was concluded with a very interactive panel discussion with attendees asking a raft of questions which will assist them in their roles within their clubs. The lasting impression of the event was of the hugely enthusiastic club volunteers who are already giving so generously of their time in helping their clubs and communities to become more health-aware.
Social Development Minister Mervyn Storey MLA said: "By participating in sport or by contributing through hours of volunteering within sport can only be a benefit to all including social inclusion and health and well-being. Volunteering is such a rewarding and selfless activity and I am pleased that my Department is able to continue to support these three sporting organisations through this innovative joint initiative: 'Sport in the Community – a home for lifelong volunteering'."
For information contact Maura McMenamin (maura.kelly.ulster@gaa.ie, 07787 797578)
Photo Caption: Representatives from IRFU-Ulster Branch, the IFA, and Ulster GAA are pictured with Jack O'Connor, Department of Social Development at the Joint "Healthy Clubs – Healthy Communities" Volunteer Forum.