Omagh St. Enda's host First Aid Training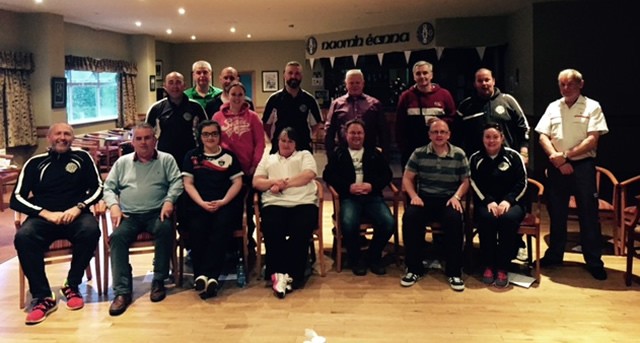 Members of Omagh St Enda's have been improving their first aid skills, thanks to a training evening at the club, delivered by Jock Magowan of the Red Cross. The successful first aid/defib training course attracted a large number of people, all of whom felt they benefitted significantly from the event.
The club's Health and Wellbeing Officer, Tracy Monaghan, who is also a member of the Tyrone GAA Health and Wellbeing Committee, organised the course, which she won after entering a draw at the Red Cross stand during the Ulster Council Health and Wellbeing Conference last November.
"It was very well supported and everyone got involved and asked lots of questions, which was great to see," said Tracy. "Instead of offering it out clubwide, I had asked the coaching officer to identify people who would be at training/matches over all the codes and age groups. This will hopefully mean these people are more likely to be around the teams/groups on a regular basis."
The Omagh St Enda's club has two defibrillators, one of which is to be housed in a heated box in the tunnel at Healy Park, the other located at St Patrick's Park.
Tracy added: "Everyone felt they would be more confident if they had to use it after the training."
Clubs interested in hosting a similar event can contact Tracy on: 07775 524803 or tracy1monaghan@gmail.com