Ulster GAA and Cancer Focus Promote 'Care in the Sun'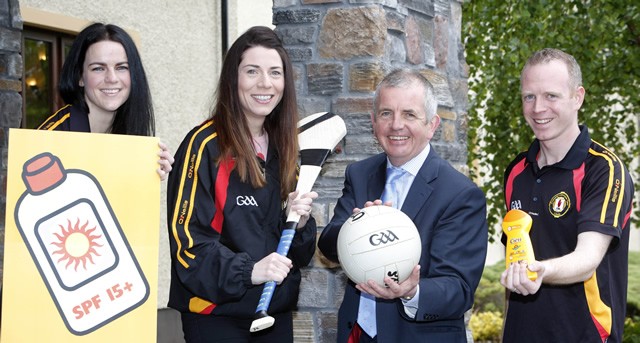 Ulster GAA and Cancer Focus Northern Ireland have once again joined forces to promote a 'Care in the Sun' message to all GAA players, mentors and fans this summer.
While the temperatures are yet to soar to levels seen in past years, the bodies are keen to help members understand the importance of taking care in the sun – even here in Ireland where the weather may not be sizzling but skin cancers are increasingly common.
Over 100,000 fans will travel to venues across Ulster to cheer on their county in the Senior Football and Hurling Championship, with tens of thousands more attending club fixtures throughout the summer months.
Match day programmes for the Ulster Championship carry the 'Care in the Sun' message, while on the warmer days, sunscreen provided by Cancer Focus NI will be available free of charge for any patrons who wish to avail of it.
In addition to wearing sunscreen – minimum SPF of 15 for UVB protection and 4 star for UVA protection, there are simple things that can help reduce the risk of developing skin cancer. Seeking shade when the sun is at its strongest – generally 11am to 3pm, covering up with a long sleeved T-shirt, sunglasses and a hat, and checking skin regularly for any changes will all enable you to enjoy the sun safely.
The provision of sunscreen to Ulster GAA is one of a number of initiatives between the two bodies who have been working together for close to nine year. Many GAA clubs and members across Ulster have availed of Cancer Awareness talks, informative leaflets, health checks and smoking cessation assistance.
Ulster GAA President Martin McAviney reflected on the importance of this partnership. He said, "Our relationship with Cancer Focus Northern Ireland has been extremely beneficial for the GAA membership. The provision of sunscreen for our summer activities is a much welcome initiative which will help our match day patrons enjoy the sun in a safe manner."
Gerry McElwee, Head of Cancer Prevention, Cancer Focus Northern Ireland said "We are delighted to be working with GAA and other outdoor sports organisations to raise awareness of the importance of sun safety for players, coaches and spectators. Taking part in sport and being active outdoors is good for our health, but despite our unpredictable weather, we are still exposed to significant levels of ultraviolet radiation from the sun, even on cloudy or breezy days. The majority of our population have fair skin, which provides little protection against the sun, so even a small amount of sun can cause serious skin damage over time and may lead to skin cancer."
Photo caption: Gerry McElwee, Head of Cancer Prevention in Cancer Focus NI is joined by Ulster GAA's Maura McMenamin, Aileen Cummins and Fionntan O'Dowd to promote the 'Care in the Sun' message throughout the summer.