Ulster GAA's 'Blood Sub' Campaign Launched on World Blood Donor Day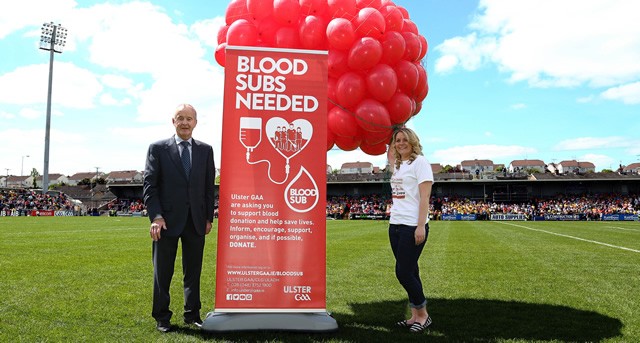 For GAA patrons attending the Armagh v Donegal championship match on Sunday 14th June, the action on the pitch wasn't the only thing to grab their attention. The Senior Football match was preceded by a balloon release to mark World Blood Donor Day, and to launch the Ulster GAA's 'Blood Sub' campaign.
The momentous occasion was celebrated by the release of 300 red balloons in the middle of the Athletic Grounds pitch. Ulster GAA Vice President Michael Hasson was joined by Emma Sloan from the NI Blood Transfusion Service who, alongside the Irish Blood Transfusion Service, are the professional services which the GAA family can support through their response to this campaign.
The message is of the Blood Sub Campaign is simple – support blood donation and help save lives. Each year throughout Ireland, nearly 100,000 people receive a transfusion but less than 4% of the population across the island give blood regularly.
Ulster GAA are calling on it's membership to be aware the importance of blood donation by promoting awareness of public donation sessions, supporting and encouraging those who can give blood to do so, and for a limited number of clubs who may be able to, host a blood donation session in their area.
For more information on this campaign, visit www.ulster.gaa.ie/health/blood-sub