Derry v Donegal Statistical Analysis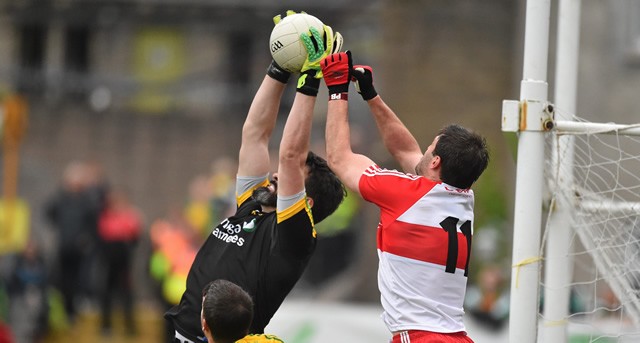 Throughout the 2015 Ulster Senior Championship, Ulster GAA will be compiling a report of the key statistics from each match. The reports will look at a range of factors contributing to game play, including possession breakdown, kick out success, possession to scores ratios and turnover stats.
The purpose of this project is to identify the key differences between team performance, and possibly help pin point where the key differences existed. Ultimately, it is hoped to identify the key area each team needs to address ahead of their next championship outing in 2015.
Kick Out Statistics
So far in this year's Ulster championship the kick out contest has not reflected the final outcome of the game, however, as will become clear the kick out battle in the semi final proved crucial to the outcome. Donegal claimed 26 from 42 of all kick outs taken, a success rate of 62%. From their own kick outs, Donegal will be relatively satisfied to have claimed 75% of the possession, predominantly through use of short kick outs. Derry, on the other hand will be disappointed to have claimed only 50% of their kicks, in particular when they consider several of the lost kicks led directly to Donegal scores, including their goal. It is notable that neither team dominated their own kick outs when forced to play them to contested areas. In fact, while Donegal managed to break even, winning 50% of their contested kick outs, Derry only claimed 27% of their kick outs that were contested.
Figure 1: Kick Outs Won


Figure 2: Kick Out Breakdown


Turnovers
Surprisingly, Donegal's turnover count in this game was up to 27, a total much higher than normal for them. Their previous turnover high from 2015 was 22 and came against Armagh in the previous round. More specific analysis will reveal that Donegal improved their previous problem area of losing the ball in the tackle, however, they lost a worryingly high 13 balls via kick passing, and a staggering 6 possessions through shots that came up short or got blocked down.
Derry managed to reduce their count from 26 versus Down, to just 22 this time out. While they do not have the same cause for concern as Donegal, Derry will also be analysing the 4 possessions lost through short or blocked shots in an effort to avoid a repeat when they meet Wexford in the All Ireland Qualifier series. Despite Derry's better care with possession this was still not enough to close the gap in possession share, with Donegal still securing a total of 52 (55%) possessions to Derry's 43 (45%).
Figure 3: Turnovers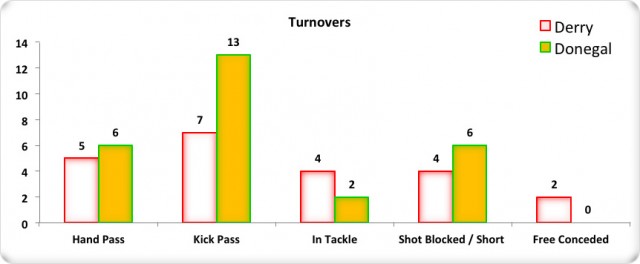 Possession to Scores Ratios
Conversion of possession to scores has been a cornerstone of Donegal's recent success, however, in this game, their efficiency deserted them. Donegal were reduced to only creating scores from 19% of all possessions, and a shot success rate of 33%. These figures are much reduced on their normal return. It is evident that Derry were very active in their defensive zone, forcing Donegal into 9 wides, but more importantly pressurising 10 shots that came up short, blocked or saved.
Despite their success in reducing Donegal's efficiency with possession, Derry were unable to capitalise. They did marginally outperform Donegal in front of goal, scoring from 38% of their shots taken, and creating scores from 23% of all possessions. However, their marginal superiority in this area was not significant enough to account for the superior share of possession that Donegal enjoyed, as a result of their dominance of kick outs.
Figure 4A & 4B: Possession to Scores Ratios & Shot Outcomes



Both teams' conversion rates led to them returning identical productivity rates of 2.3 points per 10 possessions. Significantly, Donegal were able to prevail thanks to their greater share of possession. A rate of 2.3 serves to highlight the defensive nature of this match, which ultimately contributed to some poor shot selection and in some cases poor execution from both teams. Both will be keen to increase their return ahead of their next matches in the championship.
Figure 5: Productivity


Summary
For the first time in the Ulster Championship this year the battle for kick out possession proved crucial to the outcome of the game. Donegal dominated this battle, and despite losing possession more than Derry, still enjoyed a greater overall share of possession, claiming 55% to Derry's 45%. Despite Derry's marginally better conversion their lack of possession proved costly, with Donegal just able to create enough scores to emerge victorious.
Donegal
Donegal will certainly take satisfaction from their dominance of kick out possession but, while they will be delighted to have won, they will no doubt be looking closely at their shooting statistics in an effort to address any weaknesses ahead of the Ulster final. This has been a consistently strong area for Donegal, with poor shot success normally leading to defeat in recent years. They will pay particular attention to their 2013 Ulster final defeat to Monaghan when they could only manage a 35% shot success rate, and a scoring return from their possessions of 17%.
Another worrying sign from this performance was the volume of turnovers lost, reaching a high of 27, with 10 of these through failed shots and 13 through unsuccessful kick passes. This perhaps is another example of a team using a lot of short kick outs becoming more susceptible to turning the ball over as they progress possession up the length of the pitch. It is also fair to say that the volume of kicked ball lost owes, in part, to Donegal's attempts to place long high ball into the square in particular in the early stages of the match.
Derry
Derry can certainly be happy with their defensive effort, having limited Donegal to a shot success rate of 33%, and delivered a rate of 38% themselves. Unfortunately for Derry, their inability to secure enough possession meant this conversion rate was not sufficient to secure victory. The key issue for them will be to improve the share of kick out possession they win, in particular from their own kick outs. They only managed 50% success from their own kicks. It must also be taken into account that several of these kick outs lost led directly to Donegal scores, including their goal early in the second half.
Overall Derry will be content that they thwarted the Donegal threat, but they were ultimately unable to have a significant enough impact on the offensive side of the game in order to emerge victorious. Their first point of focus will undoubtedly be on how they can secure a greater share of their own kick outs as they progress to meet Wexford in the All Ireland qualifiers.