Football Final SOLD OUT as Ulster Championship Attendances go up 5.6%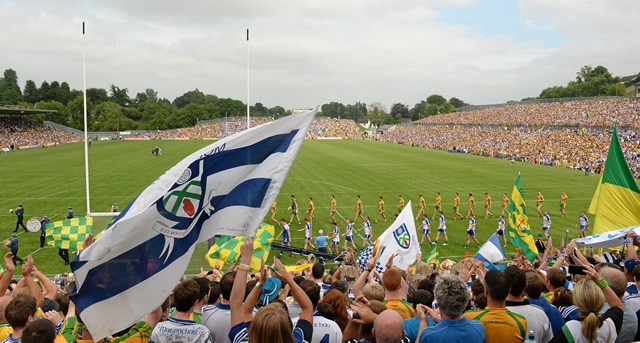 Sunday's Ulster GAA Senior and Minor Football Finals double header at Clones is now SOLD OUT, with huge interest particularly from supporters in Donegal and Monaghan for the senior showpiece. All supporters traveling to Clones on Sunday should note that a valid ticket is required for entry to the stadium, and there will be no match-day ticket sales.
The sell out final comes at the end of a Championship season that has, for the fourth consecutive year, recorded an increase in spectator numbers. Ulster GAA President Martin McAviney said:
"Back in 2011 at the height of the economic crash for the country only 107.2k people attended the Ulster GAA Senior and Minor Football Championships. This was the worst total attendance figure for the Ulster Championship in over 25 years and a wake up call for Ulster GAA that resulted in a totally new approach to how we market our games. In 2015 I am happy to report we are in a healthy state with 142.8k people attending the Ulster GAA Minor and Senior Football Championships. A new strategy was needed and the plan was put in place for the 2012 Championships that involved a completely fresh approach to marketing and ticket sales with the first action being to reduce admission prices for the Championship, which have remained frozen at the same level ever since. The second was a robust marketing campaign primarily concentrated on our online and social media channels that captured the colour, joy and striking imagery of the Ulster GAA Championship."
Ulster Football Championship Attendances since 2011:
• 2015: 142,850 – 5.6% increase on 2014
• 2014: 135,257 – 7% increase on 2013
• 2013: 126,394 – 1.2% increase on 2012
• 2012: 124,886 – 16.5% increase on 2011
• 2011: 107,229
Commenting, Ulster GAA Public Relations Officer John Connolly said:
"Due to continuing financial constraints we had to work harder and smarter with less money, so digital media became the primary focus for our campaign. This strategy was to prove very effective with both the Ulster GAA Social Media channels and Website hitting record figures this year."
Ulster GAA Social Media and Website figures for 2015 Championship Campaign:
• Facebook: 4.27M impressions
• Twitter: 3.54M impressions
• Website: 177K page views
John continued "I can't praise our Communications and Marketing Team enough, who under the leadership of Ryan Feeney (Head of the Communications & Marketing Team) have once again done outstanding work. I want to recognise the efforts of Michelle McAleer (Head of Finance), Damian Kelly (Social Media, Web and Advertising), Stephen Donnelly (Programme Editor), Brian Mallon (Ticket Sales & Finance), Sharon Haughey-Grimley (PR), Fiontann O'Dowd (Programme Sales), Aileen Cummins (Campaigns), Paul Sanders (Finance), Shane McCann (Coaching) and Jimmy Darragh (Coaching) who have once again delivered a fantastic result for Ulster GAA."
It should also be noted that nearly 70% of all Ulster Championship tickets were bought in advance of the games, meaning that these spectators were able to avail of the pre-match 'buy early and save' discount scheme. This discount of up to 33% was available for all pre-match sales distributed through Counties, Clubs, partner stores and online. This increase in pre-match sales is reflective of an emerging trend of culture change in ticket purchasing over recent years, with pre-sales for the 2013 Championship being recorded at just under 40%.