Strabane Sigersons promote 'Care in the Sun'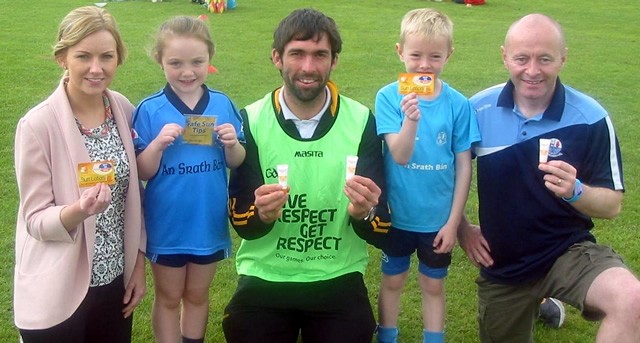 Strabane Sigersons GAA and Strabane Neighbourhood Health Improvement Project have joined forces to promote a 'Care in the Sun' message to all GAA players, supporters and their families this summer.
Sunscreen provided by the Neighbourhood Health Improvement Project was made available free of charge for the children participating in the recent Sigersons G.A.A. Tyrone Summer Camp which was kindly supported by Lisnafin Ardnalee Trust Cross Community Development Association who in partnership with Derry City & Strabane District Council via their Community Support Fund kindly assisted in allowing the club to reduce the fees for the 170 participants.
The provision of sunscreen to Sigersons GAA is one of a number of initiatives between Sigersons and Neighbourhood Health Improvement Project who have partnered once again in this initiative. Whilst the temperatures are yet to soar to levels seen in past years, the groups are keen to help members understand the importance of taking care in the sun. Even here in Ireland were although the weather may not be sizzling, skin cancers are becoming increasingly common and it's important we highlight the need to be careful in the sun.
Sigersons GAA Health and Well-Being Officer Ciarán McLaughlin reflected on the importance of this partnership. He said, "The provision of sunscreen from Neighbourhood Health Improvement Project for our summer camp is a much welcome initiative which will help our members and their children enjoy the sun in a safe manner. Taking part in sport and being active outdoors is good for our health but despite our unpredictable weather we are still exposed to significant levels of ultraviolet radiation from the sun, even on cloudy or breezy days. Sigersons are delighted to have received the sunscreen and are delighted with our developing partnership with the Strabane Neighbourhood Health Improvement Project."
Project worker Grainne McNickle commented: "The majority of our population have fair skin, which provides little protection against the sun, so even a small amount of sun can cause serious skin damage over time and may lead to skin cancer. Cancer Focus advises to seek shade and avoid prolonged exposure when the sun is at its peak – 11am to 3pm; wear clothing and hats that protect against UVR; use sunscreen with a minimum SPF of 15 and apply liberally. These measures are essential, not just when travelling to the world's sunspots, but even in the relatively milder weather conditions locally."