Ulster GAA President launches upgraded Club Maith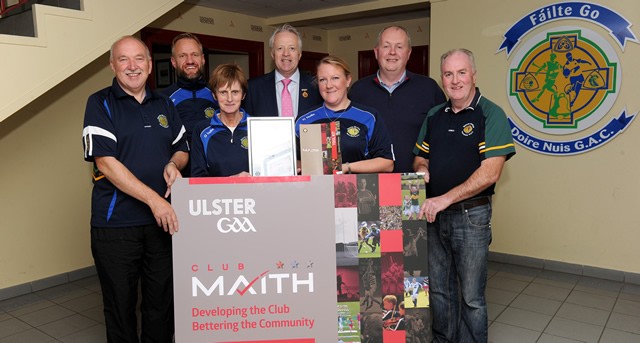 Derrynoose GAC was the setting for the recent launch of the upgraded Ulster GAA Club Maith programme.
Ulster GAA have recently revamped their Club Maith resources including the Club Maith Portolfio, Website, Toolkit and Officer Development Programme. The review is an exciting development as the upgraded resources will act as a valuable first-stop for Club Officers wishing to gain more knowledge in a specific area of GAA business. Gaels can access an extended range of useful information through the improved Club Maith website and Club Maith Toolkit. The Toolkit has been enhanced by the addition of a Club Infrastructure section which clubs should find very useful whether planning a new project, large or small; or simply completing necessary remedial works.
The Club Maith Portfolio has been upgraded in-line with changes to club responsibilities relating to health & wellbeing, volunteer recruitment, and much more. Ulster GAA coaching & games development has been more closely aligned with the Club Maith process, enabling Club Maith to be a development tool for all aspects of club business.
The Officer Development Programme has been revamped; and Club Officers will reap the benefits of this in early 2016 when the Officer Development Programme commences. The inclusion of a new programme entitled the 'Club Leadership Programme' is a pioneering programme in which to enable club volunteers to continue on a development pathway; in-turn benefitting their club and community. More details on the Club Leadership Programme will follow in the coming months.
In acknowledging the success of Club Maith Ulster President Martin McAviney praised St Mochua's Derrynoose GAC who were accredited with a platinum award last year; "Derrynoose GAC are the epitome of what it is to be an excellent GAA Club. The message from this evening is clear; every Club ought to work towards gaining their Club Maith accreditation"
Club Secretary, Shauna Gollogly, reiterated these thoughts, "We are delighted with our platinum award in Club Maith, and really value the learning we gained from going through the Club Maith process. The new Club Maith Website, and Toolkit will be an excellent resource to take clubs like ours forward".
Visit the Club Maith website at: www./ulster.gaa.ie/club-maith
Ulster GAA Club Maith Toolkit is supported by 3fivetwo Group
For further information Contact:
Maura McMenamin (maura.kelly.ulster@gaa.ie)