GAA Clubs Play Their Part on World Mental Health Day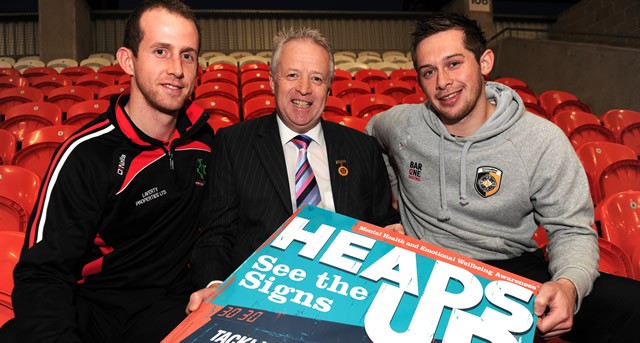 We all have mental health, some people call it 'emotional health' or 'wellbeing' and it is just as important as your physical health. Being mentally healthy doesn't just mean that you don't have a mental health problem. If you're in good mental health it also means you can cope with life and play a full part in your family, workplace and community.
There are five simple actions to help improve and maintain your emotional wellbeing in every day life. Your 'five a day' for emotional wellbeing are:
Connect – with those around you;
Be Active – walk, run, dance, garden, whatever suits you best;
Take Notice – savour the moment and take time to appreciate what matters to you;
Keep Learning – try something new; and
Give – do something for someone else.
The approaching World Mental Health Day – which takes place on 10th October, provides us with an opportunity to raise awareness of mental health and wellbeing issues.
This year's Mental Health Day focuses on raising awareness of what can be done to ensure that people with mental health problems can live with dignity.
Most people who experience mental health problems recover fully, or are able to live with and manage them, especially if they get help early on. But even though so many people are affected, there can be a strong social stigma attached to mental ill health.
Stigmatising and discriminatory treatment can be particularly distressing when a person is experiencing a health crisis.
Your mental health doesn't always stay the same. It can change as circumstances change and as you move through different stages of your life. We all have times when we feel down or stressed or frightened. Most of the time those feelings pass, but sometimes they develop into a more serious problem.
By failing to treat people with mental health problems with dignity we make it more difficult to ensure that everyone takes steps to safeguard their wellbeing and to seek help.
Ulster GAA has been formally promoting awareness of Mental Health and Emotional Wellbeing through it's 'Heads Up' campaign, which was launched in 2013.
Each GAA Club in Ulster received a 'Heads Up' resource pack aimed at raising awareness and prompting action among members around the issue. The resource sets out how involvement in the GAA can enhance positive mental health and wellbeing and on the other hand, if Clubs are concerned about members, it provides information on mental ill-heath, warning signs clubs can look out for, where to go for support and training and education which may assist with further prevention and treatment.
The 'Heads Up' pack remains available online and provides a constant reference point to GAA clubs throughout the Province. On an on-going basis, Clubs have taken it's recommendation and implemented the 'codes of conduct' for club members to ensure an ethos of respect for all in the club.
By creating an environment which is conducive to promoting emotional wellbeing, while at the same time raising awareness of the issue of mental ill-health, the GAA community are responding positively to the challenge of de-stigmatisation of mental health, not just on the 10th October, World Mental Health day, but everyday.