Sigerson's Health and Wellbeing Committee support Anti-bullying month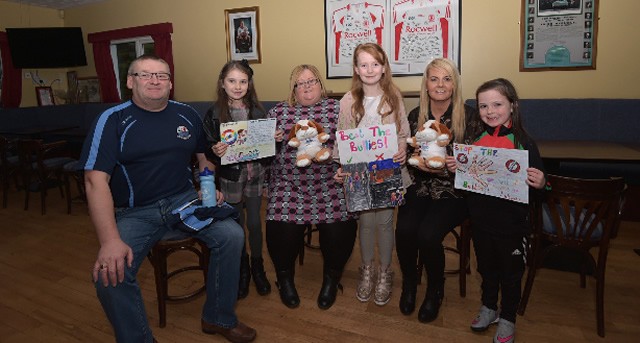 To coincide with National Anti-bullying month, Strabane Sigerson's Health and Wellbeing Committee initiated a poster competition in the local primary schools. Children were asked to create a poster explaining what bullying means to them.
Sigerson's GAA aim to create a supportive environment where any form of bullying is unacceptable, both on and off the field. Children are encouraged to report bullying behaviour straight away to coaches or club officers and they know that it will be dealt with immediately and in the appropriate manner.
Claire McCool Sigerson's Children's Officer and a member of the Clubs Health and Well-Being Committee commented "This competition gave local children the platform to explore their thoughts and feelings about bullying. Their drawings gave information on all types of physical, mental and emotional bullying and some children drew pictures about cyber-bullying via mobile phones and social media. Although there could only be four winners of the competition, all the children should be very proud of their efforts. We want children to feel that they can take part and play games safely and without any fear of being bullied."
Health and wellbeing committees have been established in all 32 counties and Strabane's Ciaran McLaughlin is the National Health and Well-Being Committee Chairman. Ciaran stated "Health and wellbeing is core GAA business. We are a sporting organisation and we are about bringing young men and young women right through from a very tender age and looking after them."
Ciaran continued "We are a huge organisation and there is a responsibility on us to look after our members in terms of mental health, physical health and general wellbeing. It doesn't mean we have to be experts on all these things, but it is a case of signposting and letting people know where they can get the help they might need. It is important to stress that the GAA is not a service provider. Sigerson's wanted their young members to know that they can take part and play games safely in the GAA, we think that message was delivered through this competition"
Congratulations to everyone who entered the competition and of course to our winners Erin Porter, Ciara Mary Brown, Tresa Nic an Chrosair and Alex Kerlin.