DCAL Minister announces new funding support for Antrim GAA Centre at Dunsilly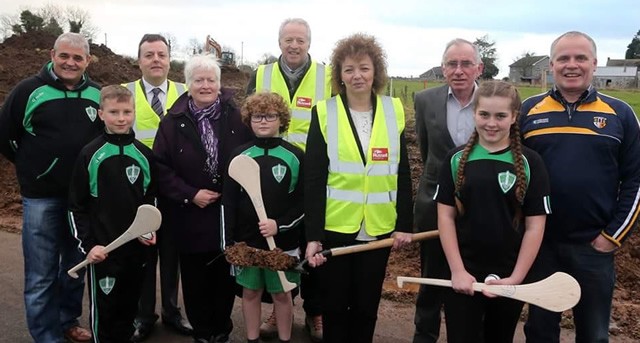 Sports Minister Carál Ní Chuilín has announced funding of £800,000 towards new facilities for Antrim GAA at Dunsilly.
The financial support will contribute towards construction of changing facilities, car parking and fencing at the Antrim GAA's Dunsilly project. Antrim GAA is contributing a further £105,000 towards the project, which is due for completion by August 2016.
Speaking about the investment, the Minister said: "I am pleased to able to offer £800,000 to Antrim GAA to contribute towards realising their long term vision for Dunsilly. This investment will enable the playing surfaces to become fully operational and accessible to the local community, including St Comgall's GAC, who previously received support from Sport NI to enhance facilities.
"Indeed it is hoped to attract almost 30,000 users in the first year, including opportunities for under-represented groups such as girls and women, people with disabilities, ethnic minority groups, young people at risk and older people. I am committed to increasing opportunities for participation in sport among those who might not otherwise have the chance and this project will contribute towards that aim."
The Minister continued: "It is great to see that work has already begun onsite. I commend Antrim GAA for their foresight in developing this facility and for their plans to include a cultural and heritage aspect to the site in future. I also wish to acknowledge the Ulster Council for their work on the business plan and in facilitating the development of the site.
"I wish Antrim GAA every success with the project and for their future plans for the Dunsilly site."
Ulster GAA CEO Danny Murphy also welcomed the announcement, saying:
"Ulster GAA welcomes today's announcement of an £800,000 investment in the Antrim GAA Centre at Dunsilly by the CAL Minister. This development means that Ulster's three regional Centres namely Owenbeg (Derry) Garvaghy (Tyrone) and finally Dunsilly in Antrim will be operational by the end of 2016. This will have a significant and positive impact on games promotion and participation. Signifiant time and effort was put in by Ulster GAA officials Ryan Feeney and Michelle McAleer working with County Secretary Frankie Quinn to secure this funding including Ulster GAA leading the development of the Business Case, we are delighted that today sees the start of work on this much needed development and I thank the Minister for her support."