Tyrone Christmas Activity Days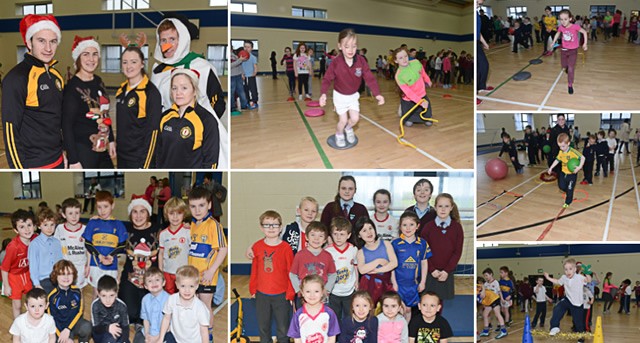 Tyrone Key Stage 1 Coaches recently ran a number of Successful Christmas Activity Days to help enter the children and Teachers of Tyrone into the Christmas spirit.
The days were ran in five locations throughout Tyrone, namely Sacred Heart College Omagh, Holy Cross School Strabane, St Ciarans College Ballygawley, Trillick Leisure Centre and Torrent Leisure Centre Donaghmore. The days were a great success and catered for over 630 children over the different areas.
At each venue the children took part in Christmas themed stations such as Snowmen Dodge, Christmas Shopping, Christmas puzzles and present pile up. While doing the stations the children were able to listen along to their favourite Christmas song which helped them know when to start and finish their station. Each of the stations were fun but also helped practice the skills they had been learning in our PE lessons.
These days were able to be a success as we enlisted the help of GCSE Students at the Secondary School venues and P5, 6 and 7 pupils from St Scires Trillick and St Patricks Donaghmore at the Leisure Centre venues. This helped give the Primary school pupils some responsibility but also some valuable experience for the Secondary School pupils as they go forward in their chosen path of sport.
At each venue we invited Local photographers to come along and help highlight the great work being done in their local area through the KS1 Curriculum Sports Programme.