Wheelchair hurling showcases GAA for all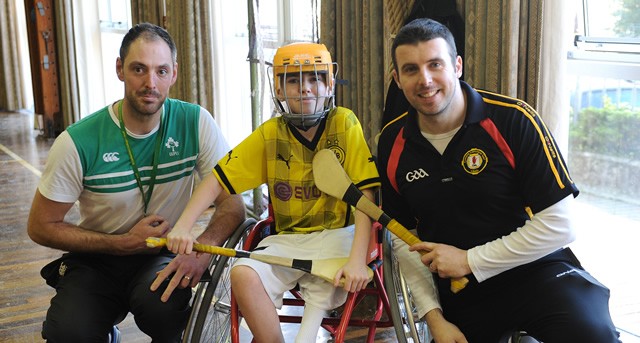 Ulster GAA has completed a week-long schools roadshow to showcase their Wheelchair Hurling initiative and to raise awareness that sport is for everyone regardless of ability.
As part of this showcase, Ulster Wheelchair hurling players welcomed the roadshow into their own schools so that their peers could get an understanding and taster of the game. This has been organised in advance of the Ulster side participating at this weekend's All Star Wheelchair Hurling Awards and All Ireland Championship which takes place at Blanchardstown IT.
Ulster GAA President Martin McAviney emphasized the importance of this initiative saying, "Wheelchair hurling has proven to be extremely popular in Ulster and we are delighted with its early success as it highlights that the GAA is open and accessible to all. Very often our games and competitions focus on our most skilled athletes but this initiative highlights that regardless of ability, there is something for everyone to enjoy in the GAA.
"I am extremely proud of the Ulster Wheelchair hurling team who are the current holders of the National League competition and we have high hopes for the All Ireland Championship this weekend.
"The schools roadshow ahead of the All Ireland Championship gives us the opportunity to raise awareness of the sport and raise the profile of the Ulster team. We are delighted to have wheelchair hurling hubs in Belfast, Craigavon, Derry and Enniskillen and I encourage anyone wishing to play or get a taster of the sport to get in contact."
Anyone interested in playing wheelchair hurling are encouraged to contact Shane McCann at Ulster GAA on 02837517180 or emailing shane.mccann.ulster@gaa.ie