Monaghan blitz Down at Clones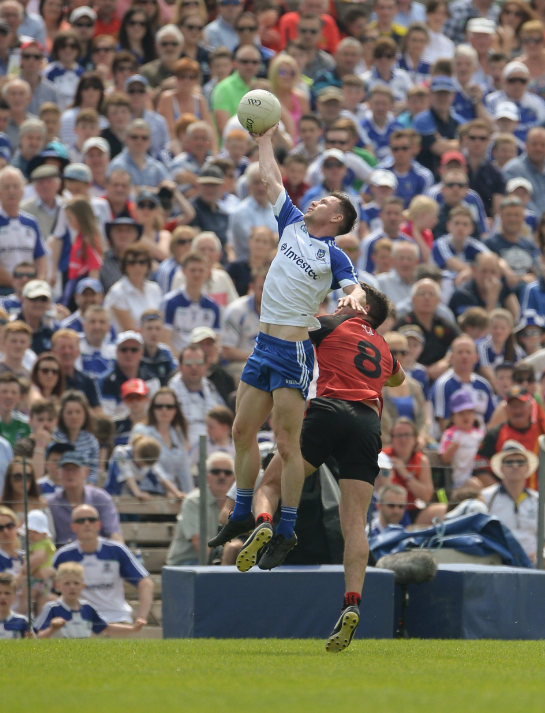 Ulster Senior Football Championship Quarter-Final
Monaghan 2-22 Down 0-9
Ulster champions Monaghan swept Down aside with a masterful second-half display which signalled they're in no mood to relinquish their grip on the Anglo Celt.
Monaghan were slow to settle and the anticipated slaughter of Down didn't happen until after the break as the underdogs, to their credit, started brightly and they deserved a lot more than they got in the first half. A combination of poor shooting by Down, who hit eight first-half wides, and some terrible refereeing decisions left them trailing 0-9 to 0-6 at the break.
Yet as good as Down were for the first 20 minutes or so, their performance levels nosedived alarmingly with Monaghan surging clear and growing stronger as the game wore on. Monaghan scored 1-8 without reply in a devastating 23-minute spell in the second half, Kieran Hughes' outstanding finish in the 57th minute the decisive score.
Owen Duffy bagged a second goal late on to inflict a 19-point hammering on Eamonn Burns' side, who failed to score from play for 38 minutes either side of the interval. Though Kieran Hughes was a livewire and kicked the first of two early points inside the opening minute, most of his Monaghan team-mates looked lethargic early on.
Points from rookie Barry O'Hagan and Conor Maginn plus two long-range frees from Darragh O'Hanlon had Down 0-4 to 0-2 ahead after 15 minutes. Their kickouts to the wings were successful and their energy and effort was at a level Monaghan were struggling to match. But it all changed once Monaghan pushed up on Down's kickouts and started contesting everything, Darren Hughes doing a superb job of breaking ball in midfield and launching counter-attacks.
Conor McManus tapped over the equalising free before Shane Carey edged them in front. The sides were level five times in the first half, but Monaghan had a good spell just before the break, kicking the last three scores, but they were still fortunate to hold a three-point lead at the interval. Referee Conor Lane was booed off at half time by the own fans among the poor crowd of 12,782 after gifting Monaghan three frees for soft fouls on Kieran and Darren Hughes and Conor McCarthy.
But there was no disputing what was to follow.
Down missed three frees in the first half and brought on expert free-taker Donal O'Hare, who converted a free at the start of the second half to reduce the gap to two. That was as good as it got for Down, however, as Monaghan shook off their first-half malaise to surge clear in an uncompetitive second half. Huge gaps started to appear in the Down defence with Monaghan's superior fitness and experience helping them pick off scores at will.
For a team often criticised for being too reliant on All Star forward Conor McManus, Monaghan managed a good spread of scores with 11 different players on the scoresheet, though McManus was still the scorer-in-chief with 0-8 (six from frees).
With the wind advantage also helping points to sail over for the champions, Kieran Hughes' brilliant finish killed the game once and for all. Leading by 0-16 to 0-7, a long ball by Karl O'Connell meant for McManus ended up in Hughes' hands, and he pivoted before drilling the ball low into the far corner of the net in a spectacular finish after 57 minutes.
Duffy's 66th minute tap-in put the gloss on a comfortable day for Monaghan, who now face either Donegal or Fermanagh in the Ulster semi-final on June 25 as they attempt to win a third Ulster title in four years.
Scorers for Monaghan – C McManus 0-8 (6f), K Hughes 1-2, O Duffy 1-0, R Beggan 0-3 (2f, 1 '45') C McCarthy 0-2 (1f), D McKenna 0-2, S Carey, D Malone, R McAnespie, K O'Connell, D Clerkin 0-1 each
Scorers for Down – C Maginn 0-2, D O'Hare 0-2 (1f), D O'Hanlon 0-2 (2f), B O'Hagan, M Poland 0-1 each, P Devlin 0-1 (f)
Monaghan: R Beggan; K Duffy, D Wylie, R Wylie; D Mone, C Walshe, V Corey; K O'Connell, D Hughes; S Carey, D Malone, R McAnespie; C McCarthy, K Hughes, C McManus
Subs: O Duffy for McAnespie (50), F Kelly for Mone (53), P Finlay for K Hughes (58), D McKenna for McCarthy (59), D Clerkin for Corey (63), T Kerr for Carey (65)
Down: S Kane; G Collins, G McGovern, D O'Hagan; D McKibbin, A Carr, D O'Hanlon; P Turley, K McKernan; C Maginn, M Poland, J Murphy; C McGovern, C Harrison, B O'Hagan
Subs: D O'Hare for B O'Hagan (HT), H Brown for Turley (40, BC), P Devlin for Murphy (49), J Flynn for McKibbin (55), D Turley for Collins (61), R Mallon for Maginn (67)
Referee: Conor Lane (Cork)
Report: Orla Bannon