Scholarships now available for Irish Diploma from Ulster GAA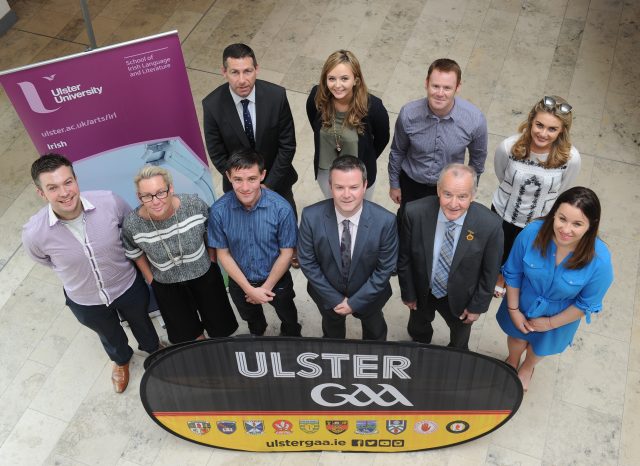 Ulster GAA's commitment to promoting Irish language, culture and heritage has been reaffirmed by the announcement of the 'Gaeilge sa Chlub' scholarship scheme for 2016-17.
Ulster GAA have just announced scholarships for GAA members applying for Ulster University's Irish Language Diploma from September 2016 in what is the fourth year of this collaboration with Ulster University. Over 70 scholarships have been awarded to date and it is likely that this commitment from Ulster GAA will benefit a further 30 learners in the year ahead.
The Gaeilge sa Chlub ('Irish in the Club') scholarship scheme for adult learners of Irish is a joint initiative from Ulster GAA and Ulster University which aims to promote the use of Irish within clubs throughout Ulster by providing financial assistance to GAA members who sign up for a Diploma in Irish Language course.
Welcoming another year of the partnership Ulster GAA President Michael Hasson said, "Ulster GAA is delighted to once again encourage GAA members to take up the Irish language, to learn it and to use it. Through this joint initiative with Ulster University, GAA members of all ages across Ulster will be able to study Irish and gain a University qualification. We hope the successful GAA members who receive scholarships will come back and promote Irish in their own local club."
Dr Malachy Ó Néill, Head of School of Irish Language and Literature at Ulster University highlighted the continued success of the collaboration with Ulster GAA; "The Irish Diploma at Ulster University continues to be a fantastic pathway to a high level of proficiency in Irish. This financial support for GAA members enables students to receive up to 50% reduction in course fees, opening the door to third-level education for many. This partnership encourages GAA members to take up the Diploma with many progressing to the Degree course thereafter."
For further information on the Diploma in Irish, contact Mrs Ros O'Hagan at r.ohagan1@ulster.ac.uk or 028 7167 5277. (course at Cookstown and Magee) or Sharon McKee at s.mckee@ulster.ac.uk or 028 95367482 (courses at Belfast).
Anyone interested in applying for the Irish Diploma Scholarships from Ulster GAA can find further details here:
Ulster University Irish Diploma Details