Ulster Referees Awards 2016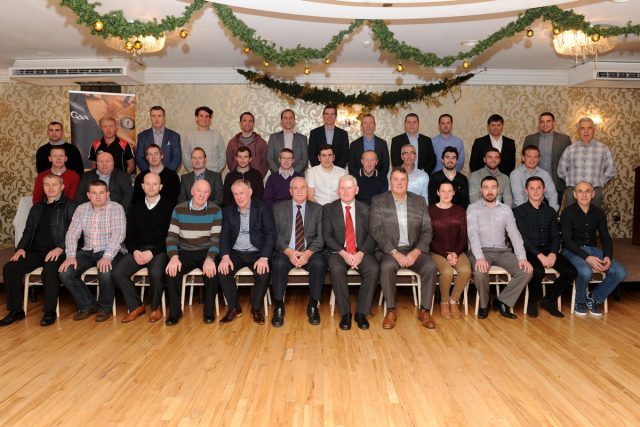 The 2016 Ulster Referees Dinner took place on Monday 5th December in the Four Seasons Hotel, Monaghan.
Ulster PRO, Michael Geoghegan was MC for the evening and thanked all our referees for their time, commitment and involvement in the delivery of our games programme. Without referees, there are simply no games.  All of our referees make themselves available and some at very short notice.
Ulster Referees Chairman, Jim Murray made special reference to those who were involved in Overseas and All Ireland Finals in 2016.  He commented that the standard of our refereeing this year was extremely good and thanked all the referees for their input and availability over the past 12 months.  He congratulated the 13 graduates from the Referees Academy and welcomed them onto the Ulster panel.
Ulster GAA Leas Uachtarán Oliver Galligan echoed these comments.  He added that Ulster GAA have invested heavily in the development of our referees.  He thanked all referees for undertaking the various roles during the year.  It is an opportunity on behalf of Ulster GAA to say thank you to all of our referees for their continued support.
The various award winners in 2016 were as follows: 
Ulster Senior Football Championship: David Coldrick (An Mhí)
Ulster Senior Hurling Championship: Eamonn Hassan (Doire)
Club Senior Football Championship: Sean Hurson (Tír Eoghain)
Club Intermediate Football Championship: Paul Faloon (An Dún)
Club Junior Football Championship: Dan Mullan (Doire)
Club Senior Football League: Enda McFeely (Dún na nGall)
Club Intermediate Football League: Martin Conroy (Tír Eoghain)
Club Senior Hurling Championship: James Clarke (An Cabhán)
Club Intermediate Hurling Championship: Colin Murray (An Dún)
Club Junior Hurling Championship: Barry Winters (Tír Eoghain)
Ulster Minor Hurling League Div 2: Niall Clifford (Ard Mhacha)
Ulster Minor Football Championship: Niall McKenna (Muineachan)
Ulster Minor Hurling Championship: James Connors (Dún na nGall)
Ulster Minor Hurling Shield: Colin Murray (An Dún)
U21 Football Championship: Niall Cullen (Fear Manach)
U21 Hurling Championship: Aidan Ferguson (Fear Manach)
Dr McKenna Cup: Noel Mooney (An Cabhán)
Ulster Minor Football League: Pat Clarke (An Cabhán)
Ulster Under 17 Football League: Eamonn McAuley (Aontroim)
Ulster Minor Football Shield: Fergal Maguire (An Dún)
Ulster Under 17 Football Shield: Sean Paul Doherty (Dún na nGall)
Referee of the Year: Ciaran Branagan (An Dún)