Celtic Challenge Hurling Competition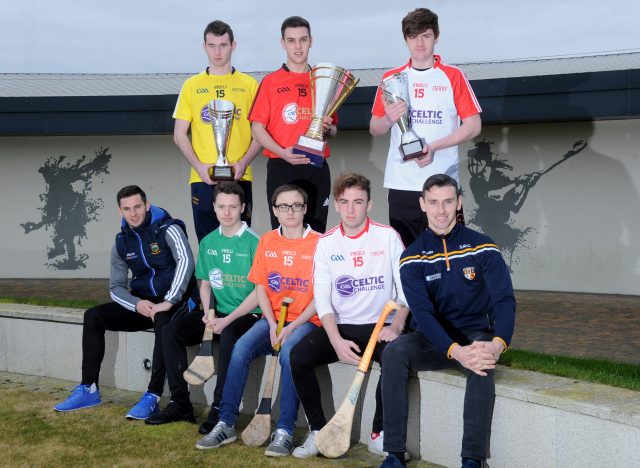 The Celtic Challenge gets underway in Ulster this weekend when six counties from across the Province meet in Group H of the competition.
Launched last year, the competition aims to play a pivotal role in nurturing and developing the game of Hurling.
In 2016, a total of 38 teams with over 1,000 players played in the competition. During a 7 week period an incredible 118 games were played including 5 Divisional Finals.
Ulster Celtic Challenge fixtures for Sunday 19th March 2017 are –
Celtic Challenge Group H1
Round 1
Dunsilly
12:00
Antrim
V
Down
Referee:  Michael Quigg (Derry)

Dunsilly
13:30
Antrim
V
Derry
Referee:  Barry Winters (Tyrone)
 
Celtic Challenge Group H2
Round 1
Garvaghey
11:00
Tyrone
V
Fermanagh
Referee:  Alan Nash (Derry)

Garvaghey
12:30
Tyrone
V
Armagh
Referee:  Tarlach Conway (Derry)
Photo caption – Celtic Challenge county representatives with Antrim captain Simon McCrory and All Ireland winner Cathal Barrett from Tipperary.