Life-long Service Award for Derry's Willie Turner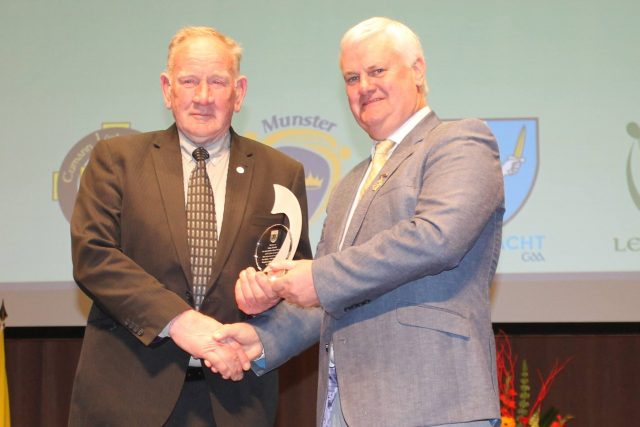 It is with a great sense of pride and honour to the Gaeil of Derry that one of Swatragh's finest sons, Willie Turner, so rightly received recognition at the Scór Sinsir All-Ireland Final for a lifetime's devotion and commitment to the promotion of Gaelic sport, and in particular for his tireless and selfless promotion of Scór within the County Derry.
Uachtarán Cumann Lúthchleas Gael, Aogán Ó Fearghail presented Willie with a Gradaim as Seirbhís Fhada at the Waterfront, Belfast on Saturday May 6th for his immense contribution to Michael Davitt's GAC, Swatragh, as well as his dedication to the GAA at County and Provincial level.
Having served time as Chairman of South Derry Board, he went on to be Vice-Chairman of the County Board between 1998 and 1999, and was Derry's representative on the Ulster Council from 2000 to 2007.
Willie Turner has been a colossus around Michael Davitt GAC Swatragh since the 1960s, promoting both the sporting and cultural side of the club. With a number of siblings playing music, and Willie himself known to sing a song when the situation is right, it is no wonder that Willie found himself drawn to the 'artistic' side of the GAA as well as the sporting side.
Since the mid-60s he has had numerous roles on the Executive Committee, including holding the post of Treasurer, Secretary and finally Club Chairman since 2015. Willie has also been one of Swatragh's most successful football managers. He was part of the management team in charge of the victorious 1961 Junior Championship winning team and was the manager himself in charge of the Intermediate winning teams in 1972 and 1979. For
years Willie was a faithful servant on the county referee panel and he called the Bingo regularly on Saturday nights, and still fills in on the odd occasion.
Sporting matters aside, it is no exaggeration to say that Willie Turner was singlehandedly responsible for the survival of Scór in Derry for many years, often presiding as Fear a'Tí at Scór events and serving as Cathaoirleach of Coiste Scór Uladh from 2004-2007. Whilst enjoying a well-deserved
retirement from official Scór duties, Willie still serves as chairperson of Michael Davitt's, Swatragh, and along with his long time friend Pat
O'Kane, can be seen at every Scór event in the county and beyond.
Willie Turner epitomises the essence of the GAA. Comhairle Uladh and Coiste Scór Dhoire wish him all the best, and many a happy year, whether watching football, hurling or camogie, or, more likely, enjoying the wonderful standard that Scór has reached.
Go raibh maith agat, a Willie, agus bíodh saol fada Gaelach agat.