Incredibly brave young GAA Volunteer recognised as 'Inspirational'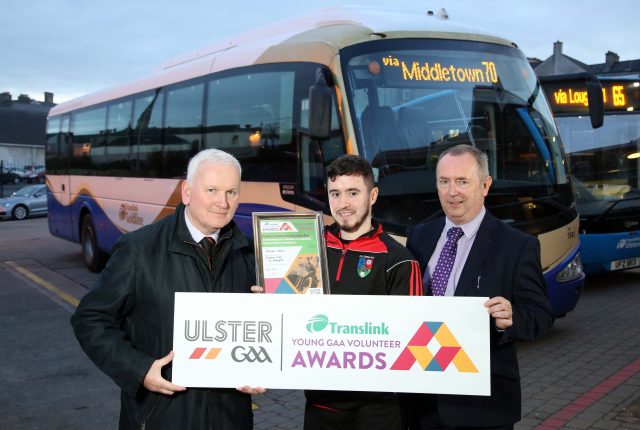 An inspirational young GAA volunteer from Killanny has won the Translink Young Volunteer of the Month Award.
Following a recent illness, twenty two year old Andrew Kieran has been an outstanding role model for all young people and a symbol of hope for all those battling sickness within the GAA community.
In January 2017, Andrew had major surgery to treat a chronic illness he had been suffering from for three years. Incredibly, he returned to playing senior club football and for his College Marino Institute of Education Dublin in June 2017.
Andrew is also heavily involved in coaching the underage and minor teams in Killanny and in October, helped steered this minor team to the clubs' first ever Division 1 Championship win.
Praising Andrew's efforts, Ulster GAA President Michael Geoghegan said, "If ever a volunteer deserved to be recognised, Andrew Kieran is that young volunteer.  Not only has his contribution to his club been second to none, it is all the more incredible due to his long road to recovery following major surgery.
"Throughout his sickness and recovery, this brave young man found his love for the GAA and his club Killanny as the positive outlet he needed and he has given so much back to the club since then.  It is so fitting that Andrew Kieran should be recognised in this way and I wish him well in the future, both to good health and to continued involved in his GAA club and county set up."
Killanny GAA Youth Officer Martin Burns said it was an honour to nominate such an inspirational and brave young man. He said, "Andrew is someone we all look up to and are so proud to have him involved in our club.  What he has come through health-wise no young person should ever have to face but Andrew has faced his recovery with pure grit and determination which is inspirational to all who meet him or hear his story.
"We are absolutely over-the-moon to have Andrew back at the club giving his time, energy and motivation to the betterment of all.  He is truly a fantastic role model for everyone in our club, especially the younger generation.  This award is so richly deserved."
Gerry Darcy, Service Delivery Manager, Translink said, "the Volunteer of the Month initiative recognises the time, talent and commitment young people give to their communities. On behalf of Translink, I'd like to congratulate Andrew on winning this award, which is presented in recognition of his volunteering efforts. It is clear that he is an exceptional man, who is a great ambassador for young people across the province and a very worthy winner of this award."